Algerian President visit underlines Italian efforts to slash Russian gas dependence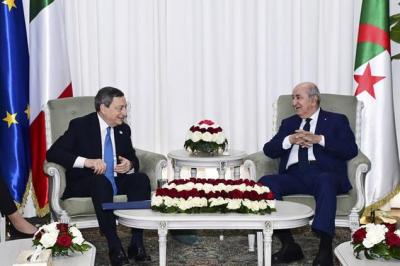 Italian Prime Minister Mario Draghi with Algerian President Abdelmadjid Tebboune in Algiers
 ROME -- Algerian President Abdelmadjid Tebboune will make a two-day state visit to Italy next week, underlining Italian Prime Minister Mario Draghi's efforts to increase energy imports from North Africa to reduce dependence on Russian gas, diplomatic sources say.
 Tebboune will have talks with Draghi May 26 as well as meeting Italian President Sergio Mattarella, the heads of both chambers of parliament and the mayor of Rome, Roberto Gualtieri, the sources said.
 On May 27 Tebboune is expected to travel to Naples, making his sojourn a visit to two cities just as Mattarella in his recent state visit to Algeria visited the port city of Annaba, the birth place of Saint Augustine, as well as the capital Algiers, the sources added.
 Even before the war in Ukraine Algeria was the second largest supplier of natural gas to Italy, which imported 22.6 billion cubic meters of gas from Algeria in 2021 compared with 29 billion from Russia. Italy's ENI energy concern long has had a major exploration presence in Algeria.
Algeria has pledged to increase its export of gas to Italy by some 50 percent or 9 billion cubic M of gas, representing 12 percent of Italian domestic demand.
 jf
 © COPYRIGHT ITALIAN INSIDER
UNAUTHORISED REPRODUCTION FORBIDDEN