Twinning of Zambian, Apulian towns highlights Lusaka-Rome cooperation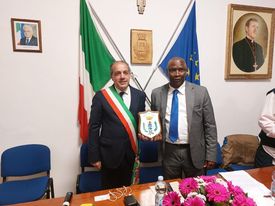 Zambia's chargé d'Affaires with the mayor of Alessano
 ALESSANO – Zambian Chargé d'Affaires Silumelume Mubukwane attended a solemn ceremony in this Apulian town twinning it with the Zambian town of Chavuma. In a speech following the decision by the municipal council of Alessano, Mr Mubukwane, who heads the mission in Rome pending the arrival of a new ambassador, underlined the role that Italy has played in Zambia helping to develop installations such as the Kariba Dam and the Indeni oil refinery.
 "Allow me to first pay tribute to the Capuchin friars whose work in Zambia has spanned many years and I strongly believe, by divine providence, caused this initiative of twinning Chavuma and Alessano to be couched," the Zambian chargé said.
 "The construction of the Padre Pio School whose third phase includes construction of dormitories, laboratories, kitchen and dining room, once the two towns are twinned, is also a potential feat which needs to be applauded and indeed encouraged."
 "Special tribute goes to Prof. Giorgio Rizzo, Father Augustine Mwape and Father Moses Moffat Muyuya, without whose collaboration we would not be here today. These three great sons of Zambia and Italy epitomise the relations that exist between our two countries spanning since 1964 when Zambia attained her independence."
 "Some of you may not know that Zambia – Italy relations gave birth to some of Zambia's foremost economic installations that to this day are a significant aspect of our day-to-day lives in Zambia. For instance, installations such as the Kariba Dam which provides most of the electric power in Zambia, the Indeni Oil Refinery and pipeline, have contributed greatly to the development of Zambia to what it is today," the charge added.
 "Italian collaboration with Zambia also extends to the aviation, agriculture and infrastructure development as well as the hospitality, motor vehicle and Energy industries, the latest of which is the Photovoltaic plant which ENEL have constructed in Zambia."
 In the social sector, Italy has also contributed towards the health and education sectors by establishing the Italian hospital and school in Lusaka. "The same can be said about the catholic church, which has been instrumental in the two sectors. In this regard, therefore, it is with great appreciation that we join you today at this momentous occasion when the two towns and in turn our two countries can further deepen our relations for mutual benefit of our two peoples."
 "As you may be aware, the government of the republic of Zambia has placed education at the top of its agenda as it is a key sector in the development of the country. You may wish to know that since taking over the stewardship of the country in August, 2021, after a landslide victory in the elections, President Hakainde Hichilema made a declaration of the return to free education from primary through secondary in Zambia as a means to ensure the country has a well-educated populace to tackle the challenges that the country faces. It is therefore encouraging to see that the potential twinning of Chavuma and Alessano can further contribute to the sector for mutual benefit of the two towns and our two countries."
 "It is also gratifying to note that there is also a cultural component which is being considered in the twinning efforts. It is usually the cultural morphing between two or more societies that gives rise to other activities of economic and social value to thrive."
 "I want to assure you that Zambia has a plethora of cultures that span 73 tribes, which each generally celebrate annual cultural events. Therefore, even within the North-Western province where Chavuma is located, there is a lot of variety to savour from, let alone the rest of the country. Through the people of Alessano, it is hoped that many Italians will be desirous to see the many cultures that abound in Chavuma and Zambia as a whole and vice versa."
 He added: "Allow me also, if you please, through the community of Alessano, to extend an invitation to the business persons of Italy, to consider looking for business opportunities that exist in Zambia and Chavuma in particular. The Town of Chavuma is currently finalising its District Integrated Development Plan wherein a number of sectors have been listed as open for investment. A lot of potential exists in various areas in Hospitality, Agric Industry, rice, aqua culture and sugar plantations among others. As we work towards the twinning of the two towns, I would like to invite you to study the document to help in having a focussed approach in making the twinning more meaningful and thereby a resounding success."
 "Such efforts would bode well with the Italian government's policy of Internationalisation where Italian nationals are being encouraged to look beyond their borders and indeed their continent to venture out and exploit business opportunities that exist elsewhere. Africa south of the Sahel Region and Zambia in particular is a most virgin territory which presents the best frontier for expansion of businesses in Europe and indeed Italy in particular."
 Africa boasts of a huge market of 1.2 Billion people to which companies that are situated in the region have access. The recently established African Continental Free Trade Area (AfCFTA) allows companies that produce within the region to enjoy preferential treatment. "Zambia, in this regard, is particularly best located geographically, with the largest number of neighbours in Africa that represent more than 400 million people to which Italian companies that wish to set up in Zambia would have access based on AfCFTA and other regional bodies rules. Chavuma for instance, is within proximity of Angola and Congo DR whose nationals frequent Zambia a lot for supplies. Italian companies that would set up their businesses in Chavuma, therefore, would have direct access to these markets."
 The Zambian diplomat added that "as a matter of policy, Zambia has prioritised Agriculture, Energy, Tourism, Infrastructure Development and value addition as key areas where international companies are free to explore possibilities of investing in."
 "In addition, you may wish to note that Mr. Hakainde Hichilema, President of the Republic of Zambia, has indicated that Zambia stands ready to contribute to the international efforts in combating climate change by going green. In this regard, he and his Democratic Republic of the Congo counterpart, His Excellency Mr. Felix Tshisekedi have agreed to place their countries' mineral resources - being among the foremost mineral rich countries on the African continent - at the disposal of companies that wish to exploit them for the electric car industry. To this end, the two presidents have extended an invitation to the private sector to consider setting up in the two countries for that purpose. Therefore, as the world goes green, this is something Italian companies may wish to consider because the electric car industry is only beginning to blossom."
 Mr Mubukwane concluded that " … I wish to once again express our deepest gratitude for being invited to this event. I also want to thank the town of Alessano for the warm hospitality extended to me since my arrival here as well as to thank Ambassador Maggiore for the excellent work he is doing in strengthening the relations of our two countries."
 "Going forward, it is my sincere hope and wish that the twinning of the two towns of Chavuma and Alessano as well as the fruits thereof will come to fruition in the earliest possible future. In this regard, I wish to propose that an official letter be written by the town of Alessano requesting, through our embassies in Rome and Lusaka for this twinning partnership to be actualised as soon as possible, as well as a draft Memorandum of Understanding which can be shared with their Chavuma counterparts for consideration and finalisation. We at the embassy of Zambia, are definitely at your disposal to facilitate a successful outcome."
 jp
 © COPYRIGHT ITALIAN INSIDER
UNAUTHORISED REPRODUCTION FORBIDDEN