Pope Francis, fighting knee pain, appears in wheelchair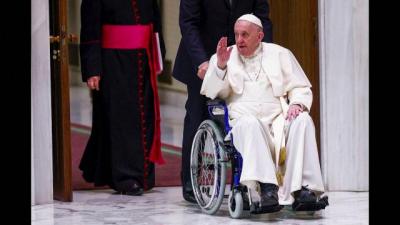 Pope Francis at the Paul VI hall Thursday
 VATICAN CITY – Pope Francis smiled broadly and cracked a joke when he appeared in a wheelchair in public for the first time Thursday due to a knee problem that has led him to cancel a series of official engagements recently, Vatican sources said.
  The pontiff received a series of injections on Tuesday to relieve intense pain in his right knee, Vatican sources said. Doctors have ordered Francis to rest his knee as much as possible including using the wheelchair in which he was pushed onto the stage by his valet at the modern Paul VI hall for the audience with nuns participating in a conference of mother superiors.
 The pope may have been using the wheelchair to cover short distances in the Vatican in recent days and is expected to continue to do so in the coming days, the sources said.
 Francis is not expected to undergo a surgical operation nor to change his schedule, the sources added.
 The pope jested with the nuns that he was not going to read a prepared speech of nine pages for his meeting with them. "Should I read it and send you to sleep?" he asked, "or will you instead ask me questions?"
 jp
 © COPYRIGHT ITALIAN INSIDER
UNAUTHORISED REPRODUCTION FORBIDDEN