Two earthquake tremors shake the Tuscan capital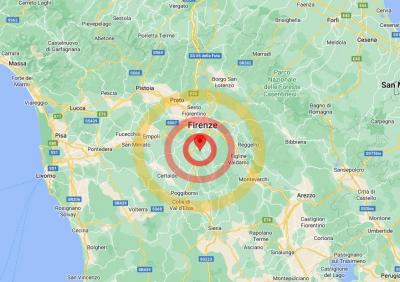 Location of the earthquake Image: InMeteo
FLORENCE – Two earthquake tremors with magnitudes of 3.7 and 3.4 took place within a few hours of each other just south of the Renaissance City on Tuesday, meteorological sources said.
 The epicentre of the earth tremors was located in Impruneta, 16 k.m. from Florence.
 The first quake happened at around 5:50 p.m. and with a magnitude of 3.7 was felt by the population in both the city and the region of Florence. No damage or injuries were reported at the end of the checks by the fire brigade, but the Regional Council of Tuscany suspended its meeting due to the event.
 That evening, at 10:14 p.m. a second tremor occurred, this time with a magnitude of 3.4.
 The Civil Protection of the Metropolitan City of Florence is monitoring the situation.
 Florence Mayor Dario Nardella posted on social media Wednesday. "This morning I took stock of the situation on yesterday's earthquake with the Commander of the Fire Brigade, the head of the Metropolitan Civil Protection and the Mayor of San Casciano," he wrote.
 "There is a lot of fear but fortunately very little damage, concentrated in the epicentre area where three families have been temporarily moved as a precaution. In Florence city no reports of damage to people or property. We continue to monitor the situation."
ln
 © COPYRIGHT ITALIAN INSIDER
UNAUTHORISED REPRODUCTION FORBIDDEN