Eni to open account with Gazprombank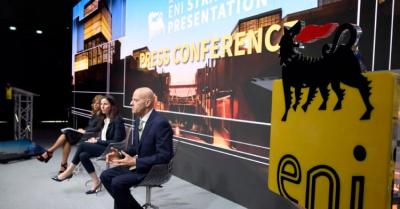 Eni, press conference Credit: Next Quotidiano
 ROME – Italian multinational oil and gas company Eni SpA is making plans to open an account at Gazprombank JSC, in order to join the Russian gas ruble payment system, finance sources said. Gazprombank is a private-owned Russian bank, the third largest bank in the country by assets.
 Bloomberg called the news a sign that Europe's united front against Russia is splintering, as purchasing gas in rubles by Eni would comply with Putin's demand that gas must now be bought in local currency. The European Union considers paying in rubles a move that would strengthen Russia and breach the sanctions.
 Supporters consider the idea a preventive measure and Eni is continuing to seek clarity from Italian and European authorities on what is permitted. German energy firm Uniper SE also hopes that it will be possible to purchase gas without breaching sanctions.
 According to a Bloomberg report, four European gas buyers have already paid in rubles and 10 have opened an account at Gazprombank. The next round of payments for Russian gas is scheduled for the second half of May.
 The European Commission President, Ursula von der Leyen, warned companies on Tuesday not to comply with Russia's request, as it would breach sanctions. "Companies with such contracts should not accede to the Russian demands. This would be a breach of the sanctions so a high risk for the companies," von der Leyen said.
 Italy receives around 40 percent its gas from Russia, however Prime Minister Mario Draghi is searching for new sources of gas around the world and is currently working on new agreements with suppliers from North Africa.
 Eni's representatives declined to comment.
ak-ln
 © COPYRIGHT ITALIAN INSIDER
UNAUTHORISED REPRODUCTION FORBIDDEN