Uffizi Galleries overtake Colosseum in 2021 world museum rankings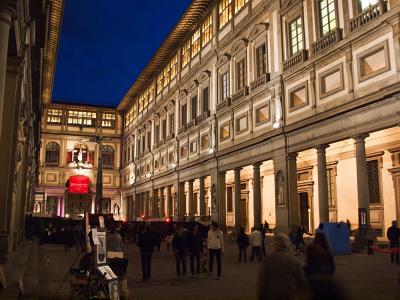 The Uffizi Galleries, Florence Photo: Kevin Poh
 ROME – The annual ranking of the most popular museums in the world, carried out by Giornale dell'Arte and The Art News, has revealed that for the very first time, the Uffizi Galleries in Florence was the most visited museum in Italy and ranked fifth in the world in 2021, cultural sources said.
 The director of the Uffizi, Eike Schmidt, called the news "an unprecedented positive fact," in an interview with Ansa, continuing that it was even more impressive "if we consider that in Italy the museums were essentially closed for four months from November 2020 to April 2021."
 In the second year of the Covid-19 pandemic, the Uffizi Galleries exceeded even the Colosseum, which has previously always been the most visited monument in Italy. The Flavian Amphitheater is now in ninth place while the Vatican Museums have slid into 10th.
 According to the ranking, the most popular museum in the world is the Louvre with 2.8 million visitors. In 2021, the entire system of Uffizi Galleries, including Boboli Gardens and Palazzo Pitti, had 1,721,637 visitors, which is almost 100 thousand more than the Colosseum, which saw 1,633,436. The third most popular Italian museum is Pompeii, which last year was visited by 1,037,766 people.
 "The Colosseum in particular lacked American and Asian tourists," noted the director general of the state museums, Massimo Osanna.
 Meanwhile Russia's light-handed approach to the pandemic meant that for the first time, Russian museums appeared near the top of the world ranking. 2021's second most popular museum in the world is the Russian State Museum in Saint Petersburg, while third place goes to the Multimedia Art Moscow museum. Russian museums unlike the European, American and Asian ones, were closed only for a few days. Saint Petersburg's Russian State Museum was closed for 10 days, compared to the Louvre which was closed for 116 days.
 Many Chinese museums, which are usually near the top of the table, decided not to provide data this year.
ak-ln
 © COPYRIGHT ITALIAN INSIDER
UNAUTHORISED REPRODUCTION FORBIDDEN