Algeria honors RAI journalist Piero Angela, Enrico Mattei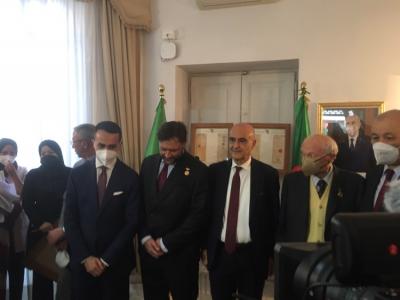 Piero Angela (right) receives a medal of merit at the Algerian Ambassador's residence, Photo credit: John Phillips
 ROME -- Veteran Italian television presenter and science journalist Piero Angela has been honoured by Algeria for his work in his youth as a RAI correspondent covering the Algerian war of independence in the late 1950s and 1960s. Angela, 93, received the Algerian "Medal of Merit" award from Algeria's deputy foreign minister, Rachid Kaid, at a special ceremony held Monday at the residence in Rome of the Algerian Ambassador to Italy, H.E. Abdelkrim Touahria, attended by the Italian Foreign Minister Luigi di Maio.  "I never expected anything like this would happen, 50 years later," Angela told the throng to applause. "I will remember this day for ever, though I don't know how long that will be," Angela quipped.
 Angela recalled working in Algiers when French President De Gaulle made his famous but ambiguous "Je vous ai compris" speech that was interpreted erroneously by pieds noirs settlers as meaning that he would never countenance an end to Algérie Française. Angela also recalled the tense atmosphere in Paris subsequently when renegade Foreign Legion paratroopers were expected to try and stage a putsch in the French capital.
 Also honoured posthumously during the ceremony Monday was the president of Italy's ENI energy coporation, Enrico Mattei, who supported Algerian independence and advised the newly independent country on how to exploit and use its vast oil and gas resources. Mattei died in a mysterious plane crash that Italian media have speculated was the result of sabotage ordered by American oil companies. The medal was collected by Enrico's great nephew Aroldo Mattei.  
 M. Kaid was due to have bilateral discussions in Rome Tuesday to determine by exactly how much Algeria will increase its natural gas exports to Italy as part of Italian Prime Minister Mario Draghi's efforts to reduce Italian dependence on Russian gas. M. Kaid's visit also was paving the way for an official visit to Italy next month of the Algerian President, Abdelmadjid Tebboune. 
 Earlier this month Ambassador Touahria told the Sole-24 ore newspaper that "Italy will be able to count on additional provisions of Algerian gas at the same price to touch, perhaps exceeding, 30 billion of cubic meters already in the coming months with an increase of about 2 billion cubic meters compared to current volumes."
 According to the ambassador, the flow of gas that will pass through the Transmed pipeline across Tunisia to reach Mazara del Vallo, in Sicily, "will be able to, if not entirely cancel, at least considerably reduce the effects of the Ukrainian crisis and of sanctions against Russia on Italian energy provision systems."
 Moreover, following recent contacts between the management of ENI and Sonatrach, Algiers has said it is available not only to increase the volume of gas based on existing contracts, but also through spot sales.
 "Regardless of the crisis in Ukraine - the ambassador told the financial daily - energy partnerships and economic relations between Italy and Algeria are going through an excellent phase."
 ENI and Sonatrach were due to sign an agreement worth 1.4 billion dollars for the exploration and extraction of gas in the field of Berkine, 770 km south of Algiers, where it is estimated that at least 7 billion cubic meters of gas will be extracted, necessary for national needs and intended for exports.
 jp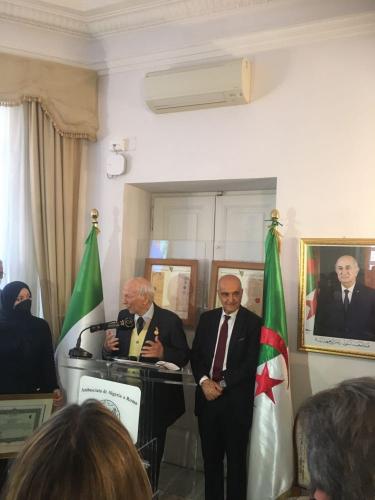 Angela with Algerian Ambassador to Italy, H.E. Abdelkrim Touahria
 © COPYRIGHT ITALIAN INSIDER
UNAUTHORISED REPRODUCTION FORBIDDEN