One hundred Pfizer redundancies at Sicily plant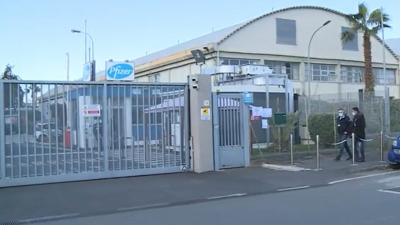 The Pfizer plant in Catania, Sicily. Photo: Blog Sicilia
CATANIA – The Pfizer pharmaceutical group making billions from its Covid-19 vaccines has been criticised for laying off some 100 workers from its east Sicilian site, said Il Fatto Quotidiano.
 "At the end of February, 50 Pfizer employees will not have their contract renewed and another 60 positions will be frozen pending the arrival of a new machine, after which the team will be reduced to 30," said trade unions after meeting with the company. 
 The announcement of the redundancies caused outrage as Pfizer has made billions in revenues and profits from its Covid vaccine, developed with the German company BioNtech using a substantial amount of public aid, and now dominant on the market. 
 Over the last year, Pfizer has had to repeatedly revise its estimated revenues and profits from selling vaccines as they continue to increase. In the first nine months of 2021, the company recorded revenues of dlrs 57 billion (50 billion euros), 91 percent more than in the same period of 2020.  The data for the fourth quarter and for the whole of 2021 will be released on Feb. 8.
 Over the past year, the company's stock market value has grown by 51 percent to reach dlrs 295 billion.
 Pfizer has said to the unions that they have allocated 26 million euros to the Catania plant over the next three years. "A derisory figure," the unions said, "only enough for the maintenance of the plants."
 The unions have said the plant contains "professionals of undisputed competence." Instead of a relaunch, the multinational has decided to strategically run plants with a thinned-down workforce, depriving itself of highly qualified personnel.
 "As part of the usual business processes," the company stated, "Pfizer periodically re-evaluates the activities of its offices around the world in order to ensure continuity in the production of drugs according to high standards of efficiency and safety".
 The unions announced that mobilisation will start Monday in view of a strike on March 4.
ln
 © COPYRIGHT ITALIAN INSIDER
UNAUTHORISED REPRODUCTION FORBIDDEN