Infectious diseases expert suggests Italy release Covid data weekly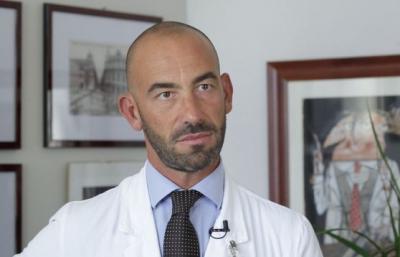 Matteo Bassetti, head of Infectious Diseases at San Martino hospital in Genoa
 GENOA – The head of Infectious Diseases at San Martino hospital, Matteo Bassetti, ignited controversy as he suggested Italy release Covid-19 data on a weekly rather than daily basis, Italian media discussed. On Wednesday Italy reported 196,224 new cases and 313 more victims, the highest daily death toll in this fourth wave. The positivity rate is up from 16 percent to 16.5 percent.
 "We have to stop with the evening report, which does nothing but make people anxious," Bassetti said in a radio interview. The Italian Ministry of Health appears to be considering the suggestion, as undersecretary Andrea Costa has asked the minister "to reflect on the current reporting system."
 However, those who oppose the idea argue that not publishing case numbers every day could mean people relax their behaviour and inadvertently increase the spread of the virus.
 Currently, the UK, Germany, France and Spain all publish case statistics daily. However, in the UK, for example, there is more focus on vaccination, hospitalisation and death rates, which Costa says Italy should do too.
 "We should focus above all on the data on hospitalisations and intensive care, because today the number of daily infections is not so crucial." Costa added that the important thing "is that detected cases do not cause excessive pressure on hospitals."
 Throughout Europe, scientists and leaders are debating the transition from pandemic to endemic. The World Health Organization and the European Medicines Agency have called for caution, especially due to the greater contagiousness of the Omicron variant, which according to the WHO could infect up to 50 percent of the European population in the next two months. 
 Meanwhile, Italy administered a record number of 686,000 jabs in one day, of which 77,500 were first doses, partly down to the recent decree obliging those over 50 to get vaccinated.
ln
Andrea Costa, Italian Undersecretary for Health
 © COPYRIGHT ITALIAN INSIDER
UNAUTHORISED REPRODUCTION FORBIDDEN