Interview: Elena Klimovich, Russian aerobatic world champion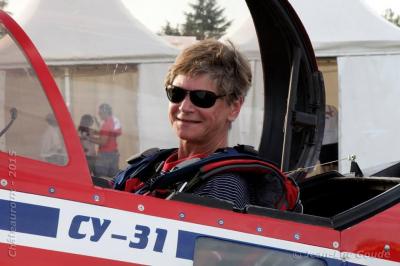 Elena Klimovich is widely regarded as one of the top aerobatic pilots in the world
 At a time when women in the cockpit were frowned upon in the world, Klimovich made a name for herself flying aerobatics as a Soviet and then Russian National Aerobatic Team pilot.
 In this exclusive interview with journalist Diden Kuzu in Moscow, Elena Klimovich - renowned Women's World Champion in 2009 and Women's European Champion in 2010 and 2012, widely regarded by top aerobatic pilots around the world as one of the best - shares the secrets of her career.
 "Flying is sensing the spirit of the plane," says the European and World championship medallist. "I take off and I feel like I am one with the plane and I can do anything I want." This is one of the allures of aerobatics, the pilot says - the feeling that the plane's wings are your wings.
 Elena joined a Moscow air-club in 1977 and made her first solo flight the following year. Over the next few years, she competed in local aerobatics contests while she earned an engineering degree.
 In 1983, she was given a slot on the elite national team. Treating aerobatics as an Olympic discipline, the Soviet government plucked the best young pilots from regional clubs for the national squad, which had its own airfield, planes, and coaches. The pilots flew full-time and were expected to win, in order to demonstrate the superiority of the Soviet Union in all domains, including aerobatics. 
 She says that flying, particularly as a sport, has been undergoing a difficult period in Russia lately. However, a new project called 'The Flying Nation' is providing hope for the revival and growth of the country's aviation fame.
 The Flying Nation project is designed to unite the efforts of general aviation enthusiasts with those of airplane sports, to make individual piloting and local air communications accessible to an increasingly wide range of users.
 Klimovich says, "No matter whether you are a man or a woman, you have to do your job well."
 The talented pilot compared current opportunities in the aviation sector to past ones, referring to the general view against female pilots around the world. It is not question of the activity, but a question of how people view females in these activities. Back in history, all teachers, cooks and workers at textile factories were men. Now, you see very few men in these sectors.
 "Now, airplanes are lighter and do not require as much physical strength as they did in the past. In aviation society, there are lots of female pilots now."
 In a discipline where pilots must combine the steel of fighter jocks, the loopy bravado of trapeze artists, and the mental focus of chess grand masters, Russian pilots have remained a formidable force, with Elena being one of the very best. She highlighted that to become a champion requires a good airplane, plenty of training with experienced teachers, and enough support from government and sponsors. 
 Commenting on the current pandemic situation and its consequences in aviation sector, Klimovich said, "we managed some difficulties in this pandemic environment and not everybody was able to come to the competitions due to restrictions for Covid. With vaccination and efforts of all countries the pandemic must disappear."
 "Hopefully, this year we will manage to run all planned World and European Championships," she said.
 Klimovich also said that family support is crucial in aviation. Her mother encouraged her a lot with her achievements.
 She offered advice for future generations who want to be an aerobatics pilot saying, "you have to work and be trained. Everything is in your hands. You can do it!" She added, "you have to taste real flying not only computer simulations, which young people are so fond of now."
 "I know that Turkish Airlines is a pretty good airline and highly respected in the world. After pandemic situation is over, I want to see Turkish pilots in aerobatics competitions," said the champion, having attended the FAI European Aerobatic Championship that took place between in Antalya, Turkey, in 1997 as part of the first World Air Games.
Dk-ln
Elena Klimovich with Didem Kuzu
Elena Klimovich in her element
 © COPYRIGHT ITALIAN INSIDER
UNAUTHORISED REPRODUCTION FORBIDDEN