Hospitalisations on the rise in 17 Italian regions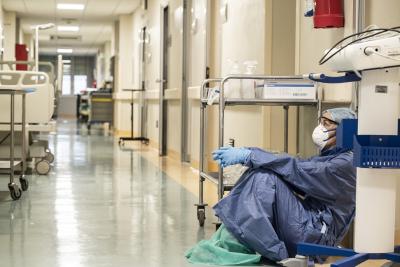 ROME – In one day the number of people in hospital beds has increased in 17 regions, bringing Italy's total occupancy rate to 19 percent, said the national agency for regional health services Tuesday.
 The most critical situation is in Valle d'Aosta, where the occupancy rate is 45 percent, followed by Calabria and Liguria which have 31 and 30 percent respectively.
 Meanwhile Tuscany has surpassed its record level of infections with the case rate almost tripling between Monday and Tuesday alone. and its hospital beds are filled to 15 percent of its capacity.
 Other regions that have seen an recent increase in hospitalisations are Abruzzo, Campania , Emilia Romagna, Friuli, Lazio, Lombardy, Bolzano, Piedmont, Puglia, Sardinia, Sicily, Tuscany Umbria and Veneto.
 According to the data, Liguria, Trento and Le Marche (whose ICU is filled to 21 percent capacity), are the regions most at risk of being made 'orange zones' - meaning increased restrictions to curb the spread.
 The nationwide occupancy rate of intensive care is currently at 15 percent and in the last 24 hours it has increased in nine regions, namely Friuli Venezia Giulia, Lazio, Marche, Molise, Bolzano, Piedmont, Puglia, Sardinia and Umbria.
 On Tuesday afternoon Prime Minister Mario Draghi received Education Minister Patrizio Bianchi, Health Minister Roberto Speranza and Covid Emergency Commissioner Francesco Paolo Figliuolo at Palazzo Chigi in Rome in order to discuss proposals for new rules regarding children returning to school after the holidays. Debate on this subject is ongoing, however the government is due to review and possibly approve a proposal sent by the regions requesting, among other initiatives, that the whole class is sent home if four pupils test positive.
ln
 © COPYRIGHT ITALIAN INSIDER
UNAUTHORISED REPRODUCTION FORBIDDEN