Hungary wins world's best gelato flavour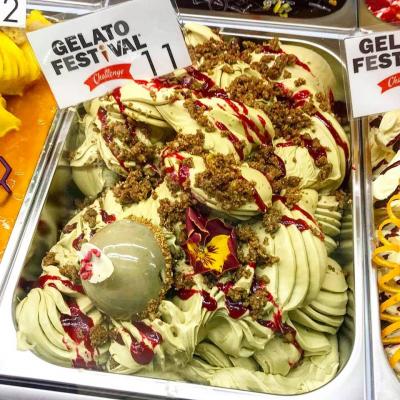 The winning gelato - salted pistachio with Tonka bean spiced raspberry coulis and pistachio crumble
  BOLOGNA – After four years of competitions, hundreds of selection events and over 3500 participants from five continents, the results of the world final of Gelato Festival World Masters are in. The best gelato flavour in the world is Hungarian, 'Frutta di Pistacchio' by Ádám Fazekas of Fazekas Cukrászda in Budapest, a creamy salted pistachio gelato with a Tonka bean spiced raspberry coulis and a pistachio crumble.
 The Hungarian Ádám Fazekas impressed the jury for his technical competence, the quality and combination of the ingredients and the taste presentation. His journey began in 2018 with a selection in Hungary and then, the following year, the victory in the 'Gelato Festival Next Generation' competition which brought together the 16 best European gelato artisans under the age of 30. Finally, he won the European Final last July.
 "I come from a small European country, Hungary, with big dreams, professional humility, and unstoppable hunger for knowledge," said the winner. "It was a huge step and also a great honor to win the National Championship then to come out on top of the 'Next generation' category in Rome in 2019."
 "My special gelato poem was inspired by one of the best-selling desserts of our confectionery. That's how the salted pistachio gelato was created."
 The competition final was live streamed Thursday for 12 hours with 32 gelato makers from 18 countries around the world. The tournament was partnered with Carpigiani and Sigep - Italian Exhibition Group.
  In second place, from Spain, was Carlo Guerriero of La Cremeria Gelato Italiano in Cádiz with the flavour 'Cremoso al Vino Oloroso.' A captivating zabaglione gelato flavoured with Palo Cortado sherry wine, raisins soaked in the same wine and crunchy almonds.
 Italy's Marco Venturino of the 'I Giardini di Marzo' gelateria in Varazze took home third place with the flavour 'Bocca di Rosa.' A fragrant white chocolate gelato with rose water made by Venturino, inspired by the Ligurian rose syrup Slow Food Presidium.
 The technical jury was made up of 11 gelato makers, frozen dessert professionals, pastry chefs and culinary chefs of international standing.
 Many more prizes were awarded for special categories, such as 'Best flavour from South America' to Juan José Orueta with the flavour 'Fruición,' 'Pairing flavour and Territory,' to Massimiliano Scotti with the flavour 'Il mio primo vero latte' ('my first real milk') and 'Storytelling,' which went to Fabiano Franzoso of Cremoloso Gelato in London with the flavour 'Amaretto salato.'
 The Gelato Festival debuted in Florence in 2010, inspired by the creation of the first gelato recipe by the multifaceted architect Bernardo Buontalenti in 1559. Since then, the event has expanded its borders, expanding first to the rest of Italy, then to Europe and - since 2017 - also in the United States, with hundreds of events held, before embracing the whole planet with the World Championship of Gelato Festival World Masters 2021.
ln
 © COPYRIGHT ITALIAN INSIDER
UNAUTHORISED REPRODUCTION FORBIDDEN