First Omicron patient in Italy credits vaccine for mild symptoms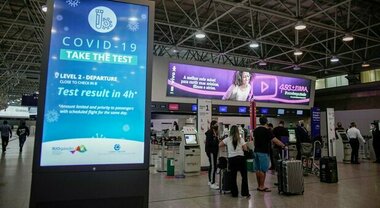 CASERTA -An Italian engineer who passed the Omicron variant of Covid-19 to his family after he flew home from Mozambique said the vaccine is working "excellently," including for a grandparent over 80 years old, health authorities said.
 "I am satisfied that I was vaccinated, because the vaccine worked excellently in our case," commented the Eni engineer, who tested positive just before he was about to fly back to Africa. Currently he is in home isolation with his entire family, consisting of six people - four adults and two children - all positive with the virus.
 "Given my mild symptoms and those of my family, which includes people between 8 and 81 years old," said the man, who has not been identified, "I can say that the infection manifested itself only mildly."
 Ferdinando Russo, manager of the local health agency, explained the patients "have a very low viral load, and this - I am referring in particular to adults - is due to the fact that they are vaccinated with two doses."
 The positive swabs of the family members are currently being analysed to confirm that they are also infected with the Omicron variant. The results are expected to come through on Tuesday.
 Vaccination uptake has increased sharply following the news of the latest variant detected in South Africa.
 Over the weekend, 28,385 first doses were administered on Sunday, 28,018 on Saturday and 25,607 on Friday. This is up around 40 per cent from last week, which saw an average of 17,000 a day.
 The increase is also attributed to the introduction of the 'Super Green Pass', which restricts recreational activities to the vaccinated starting Dec. 6.
 Italian Health Minister Roberto Speranza expressed optimism. "Today we are all more reactive than last year," he said. "There is an alarm mechanism that was not there before and this is good for Europe."
 Virologist and president of the Italian Medicines Agency, Giorgio Palù, said, "there are no scientific reasons for this alarm. From a virological point of view, an accurate study is needed to evaluate the effects on vaccinated people from a few days to two weeks. Currently we suspect that it is more contagious, but it will be the experiments that will tell us if it is actually more virulent."
ln
 © COPYRIGHT ITALIAN INSIDER
UNAUTHORISED REPRODUCTION FORBIDDEN