Italy Covid-19 cases surpass 10,000 for second day running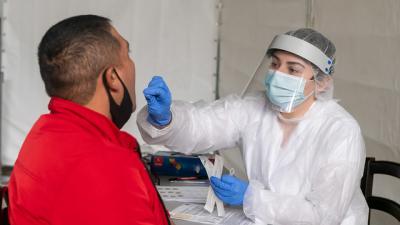 ROME --For the first time since May, the number of new Covid-19 cases has risen above 10,000 for the second day in a row, health authorities said. The news comes as the northern regions of Bolzano and Friuli-Venezia Giulia approach yellow zone status, and some governors are pushing for differentiated measures for vaccinated and unvaccinated people.
 There were 10,638 new cases registered on Nov. 18 and 69 deaths.
 In the period of Nov. 12 to Nov. 18, the Higher Institute of Health reported an increase of 78 cases per 100 thousand inhabitants to 98. The occupation in intensive care rose from 4.4 to 5.3 per cent, while the proportion of hospital beds occupied by people with Covid also increased from 6.1 to 7.1 per cent in the same period. These numbers, however, remain below the alert levels set by experts, who set the risk thresholds of 10 per cent for the ICU and 15 per cent for Covid wards.
 Most provinces remain at moderate risk, however cases in Bolzano and Friuli-Venezia Giulia have risen well above the national average, coinciding with the regions' prominent large gatherings of people against vaccination. In Bolzano, there are currently 406 cases per 100 thousand inhabitants, while in Friuli-Venezia Giulia there are 289.3.
 The same areas have recorded the highest numbers of people in hospital and intensive care. Friuli has filled 13.1 per cent of its intensive care unit - above the risk threshold of 10 per cent -  while it has hit 14.8 per cent of its Covid ward capacity, dangerously close to the maximum threshold of 15 per cent. Bolzano has recorded a rate of 11.3 per cent in ICU and 14.2 for normal Covid wards respectively.
 Certain governors such as Renato Brunetta and Dario Franceschini have called for a meeting with Prime Minister Draghi to discuss the idea of different measures for vaccinated and unvaccinated people, which could take place as early as Nov. 22. Bars, cinemas and restaurants may become accessible only to those who are vaccinated. 
 The government is also considering reducing the validity of the green pass to nine months and a new decree may be issued next week.
ln
 © COPYRIGHT ITALIAN INSIDER
UNAUTHORISED REPRODUCTION FORBIDDEN