Archbishop Gallagher in Finland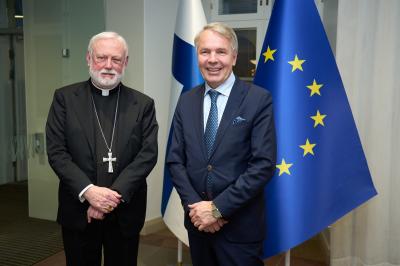 Paul Gallagher (left) with Pekka Haavisto (right)
HELSINKI --Finnish Minister for Foreign Affairs Pekka Haavisto met Secretary for Relations with States of the Holy See Paul Gallagher in Helsinki in his recent visit in Finland.
 In their meeting on Nov. 12, Haavisto and Gallagher discussed foreign policy themes, focusing on topical questions related to the Middle East and the Horn of Africa as well as on mediation.
 "I consider it important that we engage in dialogue with the Holy See on such issues on the global agenda as climate change and migration," said Minister Haavisto, "the Holy See is also an important actor in matters related to mediation, for example."
 Secretary for Relations with States Gallagher also visited Parliament where he met members of the Foreign Affairs Committee. He celebrated a mass in the St. Henry's cathedral in Helsinki for the Catholic community which in Finland is made of some 15,000 members. He also met diocesans and representatives of the  Lutheran and Orthodox clergy.
Paul Richard Gallagher, (born Jan. 23 1954) is an English Catholic archbishop and was appointed to his current role on Nov. 8 2014.
ln-gn
Mass in St. Henry's cathedral, Helsinki
 © COPYRIGHT ITALIAN INSIDER
UNAUTHORISED REPRODUCTION FORBIDDEN