First bow delivered for French commissioned ships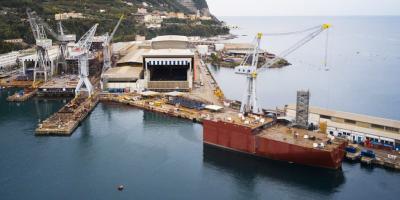 Delivery of the bow section
POMPEI – The bow section of the Jacques Chevallier was delivered Saturday to the Fincantieri plant in Castellammare di Stabia, the first of four LSS (Logistic Support Ship) units ordered by Chantiers de l'Atlantique as part of the FLOTLOG program, announced the Italian-French program led by OCCAR (Organisation for Joint Armaments Cooperation).
 The LSS (Logistic Support Ship) project is characterised by a high level of innovation which renders the ships both more efficient and adaptable for different uses. LSS envisages the construction of four ships for the French navy by the temporary consortium formed by Chantier de l 'Atlantique and Naval Group on behalf of DGA, the French Directorate General for Armaments, and its Italian counterpart, NAVARM.
 The bow was built in the shipyard of Castellammare di Stabia, just south of Pompei. It is 73.82 metres long, 27.6 metres wide, 20.6 metres tall, and weighs 3,000 tons. The LSS project contructs units for the sea supply of liquid cargo (fresh water, aviation fuel, marine diesel) and solid cargo (ammunition, foodstuffs, spare parts).
 The 'Jacques Chevallier' is currently under construction in Saint-Nazaire on the west coast of France, near Nantes. The final assembly with the bow section is scheduled for the beginning of December. The unit will be launched in March 2022 with delivery to the Marine Nationale expected by the end of 2022.
ln
 © COPYRIGHT ITALIAN INSIDER
UNAUTHORISED REPRODUCTION FORBIDDEN