Jeff Koons exhibition draws 50,000 visitors in 30 days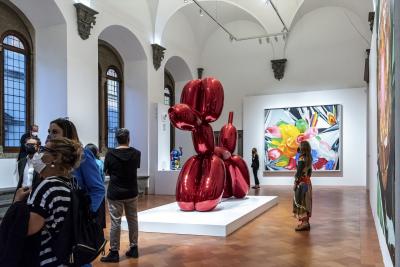 Jeff Koons Shine © photo: Ela Bialkowska OKNO studio
 FLORENCE -The latest exhibition in Palazzo Strozzi, 'Shine' by artist Jeff Koons, has attracted 50,000 visitors in the first month of opening, 60 per cent of whom came from outside Florence, announced the palace's charity. The success has already "exceeded expectations" and is fuelling hope for city's future after months of pandemic restrictions.
 Arturo Galansino is director of the Palazzo Strozzi Foundation and coordinator of the exhibition alongside Joachim Pissarro. He said, "Until a few months ago it seemed impossible to just think of creating such an exhibition. However, we wanted to complete an ambitious project that could serve not only Palazzo Strozzi but the whole city - a call to bring Florence back to life through contemporary art."
 "We took a risk and the public's response was not lacking. Indeed, it exceeded all our expectations. We are therefore really satisfied with the success of this exhibition" whose inclusivity "reflects the very spirit of Jeff Koons' art which aims to make the visitor the protagonist of his works." Galasino refers to the 1,000 visitors who have taken part in accessibility programs as well as 2,000 families who have participated in workshops for all ages. For all its exhibitions, the Palazzo Strozzi Foundation creates specific activities for groups of people with Alzheimer's, Parkinson's and autism spectrum disorders.
 'Shine' is a selection of Koons' most famous works from the last forty years. From the polished metal sculptures that replicate luxury objects, such as the Baccarat Crystal Set (1986) or the iconic inflatable toys such as the famous Rabbit (1986) and Balloon Dog (Red) (1994-2000), to the re-interpretation of pop culture characters such as Hulk (Tubas) (2004-2018), or the re-invention of the idea of ​​ready-made with the use of everyday objects such as One Ball Total Equilibrium Tank (Spalding Dr. JK 241 Series) (1985).
 The concept of ​​'shininess' is a key feature of Koons' innovative sculptures and installations, to question our relationship with reality but also the very concept of a work of art. For Koons, the meaning of the term 'shine' becomes an intrinsic element of his art, as its reflective property "increases our metaphysical perception of time and space, of surface and depth, of materiality and immaterial."
 The exhibition is promoted and organized by the Palazzo Strozzi Foundation. Supporters: Municipality of Florence, Tuscany Region, Florence Chamber of Commerce, CR Firenze Foundation, Palazzo Strozzi Partner Committee. Main Partner: Intesa Sanpaolo.
ln
 © COPYRIGHT ITALIAN INSIDER
UNAUTHORISED REPRODUCTION FORBIDDEN