Covid-19 rate rises in anti-vax hotspots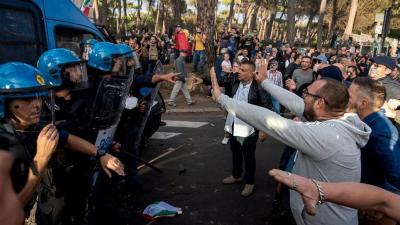 'No Green Pass' demonstration in Trieste
 TRIESTE - The 'Anti-Green Pass Capital' of Italy has seen an "exponential increase in new cases, like last autumn," pushing the region's prefect to ban protests in the main square, sources from the region have said. In South Tyrol, where vaccination rate is the lowest in the country, cases are also rising, which means more restrictions may have to be implemented.
 In the last week "801 new cases were registered, double the previous week," said the president of Friuli Venezia Giulia, Massimiliano Fedriga. This has led to an infection rate of 350 cases per 100 thousand inhabitants, just under triple that of the rest of the region."
 Trieste's prefect, Valerio Valenti, has closed Piazza Unità d'Italia to demonstrations. He said the "right to demonstrate has been temporarily restricted to safeguard health."
 "The first threshold of intensive care has been exceeded, that is, 10 per cent of the beds are occupied," announced the regional head of the health task force, Fabio Barbone.
 Among the Trieste residents who have tested positive in the last week, 93 cases were found among participants of the 'No Green Pass' events - all unvaccinated who did not wear masks or 'social distance.' Barbone pointed out that people "were side by side with many others, in situations such as talking animatedly, screaming, singing."
 Meanwhile South Tyrol, where only 60 per cent of residents have had two doses of vaccine, has the second worse case rate after Trieste relative to its population - 148 cases per 100 thousand inhabitants. The Governor of Bolzano, Arno Kompatscher, said the number is "confirmation of what science has been telling us for months - less vaccinated, more risk." 
 In South Tyrol, the percentage of places occupied by Covid patients in intensive care is still low at 4 per cent, but from Oct. 18 to Nov. 1 there was a surge in hospitalisations, from five to 10 per cent, which has caused concern.
 "Unfortunately the figures are getting worse, more and more infections are detected," said Kompatscher. "We have a lower vaccination rate and this corresponds to a higher spread rate."
 "Our situation is similar to that of Austria and Germany where there are fewer vaccinated than in Italy. And in Austria new restrictive measures have been decided," he concluded.
ln
 © COPYRIGHT ITALIAN INSIDER
UNAUTHORISED REPRODUCTION FORBIDDEN