'Fridays for future' climate protests at Rome G20
Photo credit: ©️ Alessandro Lisci - Target Lab Ets
 ROME - Protest marches by climate activists from the 'Fridays for Future' movement took place Saturday afternoon, just west of the city centre, police said.
 The protests took place on the first day of the G20 summit, when the most industrialized countries in the world come together. Climate activists chose this moment to raise their voices because while these countries are responsible for two thirds of trade and 80% of global GDP, they also emit 75 per cent of total CO2 emissions.
 It is estimated around 10,000 people took part in the crowd that started at Piazzale Ostiense, went to Piazza Testaccio and then followed the Tiber to finish at Bocca della Verità. Police however have put the number at 5,000. The crowds demanded investments in schools and public health, as well as decisions made for the planet.
There was also a smaller protest by the Communist party against the Draghi government. They chanted, "against the Europe of capital, class struggle, popular power" and waved red flags with hammer and sickle in the shadow of the Basilica of San Giovanni.
ln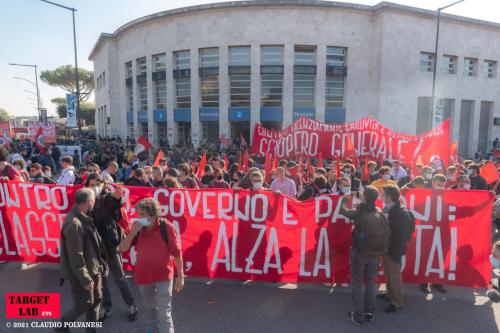 Photo credit: ©️ Claudio Polvanesi - Target Lab Ets
 © COPYRIGHT ITALIAN INSIDER
UNAUTHORISED REPRODUCTION FORBIDDEN