Fencing champion fights 'diabetic discrimination law'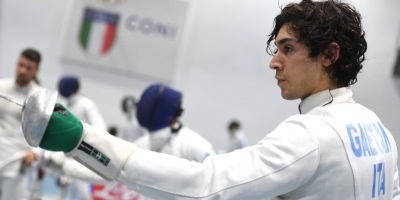 TURIN - National fencing champion, Giulio Gaetani, is fighting to change an antiquated law that is preventing him from working for both the Carabinieri and the army solely because he is diabetic, writes Il Fatto Quotidiano.
 Gaetani won the Under-20 Fencing World Cup in the 2019-2020 season. Despite his success and suitability to work in a role that requires strict discipline and physical fitness, the 21-year-old is not eligible to do so because of the 1933 royal decree that states a person with diabetes may not serve in the navy and more recently it was extended to the military, too.
 "It's like you're in limbo," Gaetani explains, "I cannot have access to a salary due to my illness, but at the same time I am not equated with a Paralympic - I am not disabled."
 In 2017 Gaetani took part in an assessment to join the Carabinieri. He produced the best results of the group, but was rejected due to diabetes. This year he applied to join the army and the same thing happened. "First place, but then judged unsuitable," he said.
 "But I train just like everyone else," he defended. "I am supported by my staff, by the diabetologist who was assigned to me in Turin and by the federal doctor."
 To fight his case, Gaetani has collaborated with the Youth Diabetes Federation (FDG), which has been working to improve the social and health conditions of children and young people with diabetes since 1981. Together, they have taken the issue to the Regional Administrative Tribunal (TAR) and are awaiting the sentence. They have also started a petition on Change.org.
 "We think that suitability must be assessed specifically for what a person has to do, not in general," explains FDG president Antonio Cabras. "We are all fit or unfit to do things. Even those who are completely healthy."
 The petition calls for "the annulment of the deeds, documents, minutes, drawn up by the Commission, on the basis of which the judgment of unsuitability was formulated, and of the Ministerial Decree 4 June 2014 [...] concerning the assessment of imperfections and infirmities that are the cause of non-suitability for military service, and related annexes, with regard to the part in which 'type 1 and 2 diabetes mellitus' fall within the defects of glucose metabolism."
 Gaetani is awaiting a response from the TAR and meanwhile continues to try to raise awareness, emphasising, "it is a condition that does not concern me alone."
ln
 © COPYRIGHT ITALIAN INSIDER
UNAUTHORISED REPRODUCTION FORBIDDEN