'Sea Watch 3' seeks safe port for 412 rescued migrants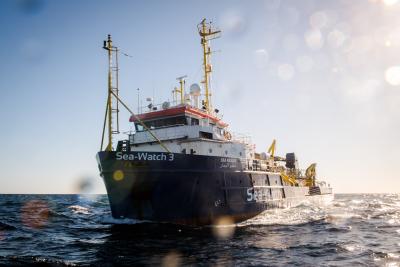 AGRIGENTO - The German NGO rescue ship, 'Sea Watch 3,' that saved 412 migrants from the deadly Mediterranean crossing in two days is asking for a safe port to embark the survivors, naval sources said.
 The NGO said that the 412 were saved during seven different rescue operations that took place over Sunday and Monday and those rescued included "many children," according to their Twitter account.
 As of Monday, the Sea Watch 3 was the only humanitarian ship in the central Mediterranean Sea. Geo Barents, from Médecins sans Frontières (MSF), is expected to arrive in the SAR zone in the coming days. Three migrants were evacuated for medical reasons and taken by an Italian Coast Guard vessel to the island of Lampedusa.
 Since the start of the year, IOM's Missing Migrants project, which tracks deaths on migratory routes, has recorded 1,179 migrant deaths in this area, up by 411 for the whole of 2020. The Mediterranean remains today the deadliest sea route in the world.
 The rescue ship also denounced the behavior of the Libyan Coast Guard who were in the area. One of their boats intercepted several migrant canoes, preventing Sea Watch from rescuing them.
 The surveillance sailboat, Nadir, also rescued 34 people, including a pregnant woman, off the Maltese coast, on Monday. The small boat, normally intended only for surveillance missions, has asked Malta and Italy for permission to disembark them.
ln
 © COPYRIGHT ITALIAN INSIDER
UNAUTHORISED REPRODUCTION FORBIDDEN