As FAO loses influence, USDA 'changes focus' toward food agency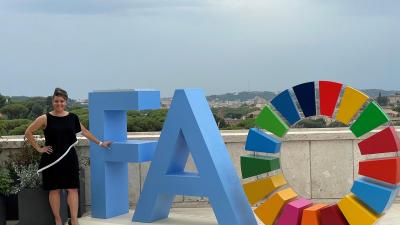 The Rome headquarters of the UN Food and Agricultural Organization was the site of the UN Food Systems Pre-Summit Ministerial attended by Deputy Secretary Jewel Bronaugh as head of the U.S. delegation..
 ROME – The US Department of Agriculture (USDA) appears to be choking off project finance to the FAO, suggesting that relations between the UN agency and the Biden administration may be less smooth than FAO Director General QU Dongyu enjoyed latterly with Washington under President Trump, FAO sources say.
 In response to a recent request for project finance from FAO, a USDA official said "that's not our focus right now." The USDA's regular substantial contribution to the FAO remains but in the past the department of Agriculture also financed numerous individual projects at the agency.
 It was unclear whether the response reflected a deliberate shift but an FAO watcher commented that "denying money may be the only way to make the FAO change."
 After disastrously failing to support the French favourite to become Director General of the FAO, splitting the western vote and allowing Mr Qu to win, the Trump administration and its ambassador Kip Tom successfully persuaded Mr Qu to support big agribusiness as the FAO signed an unprecedented memorandum of understanding with Croplife.
 New US Ambassador elect to the FAO, Cindy McCain, still is awaiting Senate confirmation but as the largest donor to FAO the new US administration may have decided on a tougher line against Mr Qu's efforts to consolidate Beijing's influence at the FAO.
The appointment of Chinese to senior FAO positions continues. A recent appointment was of Li Lifeng as director of the land and water division. There are now as many as six division directors of Chinese nationality.
 Despite the influence of China and its agricultural achievements, diplomats accredited to FAO are concerned that the agency has been losing visibility and status. The UN Food Systems Summit held in September in New York was entirely managed and organized by the UN in New York without any meaningful input from FAO.
In this way , the FAO evidently was dispossessed of its traditional role of a convenor of agricultural summits.
 Observers also believe QU has relied too heavily for contacts with Washington on senior US former staff members such as Dan Gustafson. "It is difficult to do with things with old gerontocrats without new ideas and new energy," one FAO watcher said.
 "A new world requires new people or a proper mix of old and new people."
 A large number of NGOs have been highly critical of the process and role of FAO recently, especially in tis decision to use banned pesticides to control the vicious locust plague in Africa.
 jp
 © COPYRIGHT ITALIAN INSIDER
UNAUTHORISED REPRODUCTION FORBIDDEN