Police force Green Pass protesters from port with water cannons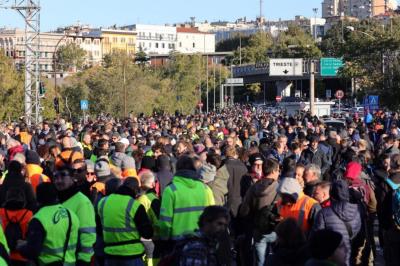 TRIESTE -Anti-Green Pass protesters who stationed themselves at Gate Four of the Trieste Port on Friday have been forced away by police in riot gear using tear gas, water cannons and charges, according to Il Fatto Quotidiano. Sky Tg24 has reported that some of the demonstrators are now in custody.
 Police arrived in the area on Monday morning to find a group of people from the Trieste Port Workers Coordination who had been occupying the area since Friday to protest against the law that came into force that day making the Green Pass obligatory in the workplace. The group was sitting on the other side of the barrier refusing to move and chanting slogans like "people like us never give up" and "freedom."
 An official repeatedly ordered the demonstrators to leave and when this failed, the police activated water cannons to disperse the crowd which led to clashes with the group. After the water cannons were turned off, the protesters sat down again holding hands or hugging each other.
 "I will not move from here until the end," said several demonstrators resisting the authorities. "We are unarmed, we have children at home, it's shameful," a woman shouted at the officers.
 The police eventually succeeded in making the group retreat to the parking area in front of Gate Four, thus they could continue to protest while the port was able to resume regular activity.
 Since the introduction of the Green Pass mandate, Italy has already seen a boom in vaccination uptake.
ln
 © COPYRIGHT ITALIAN INSIDER
UNAUTHORISED REPRODUCTION FORBIDDEN