New scholarship for refugee unaccompanied minors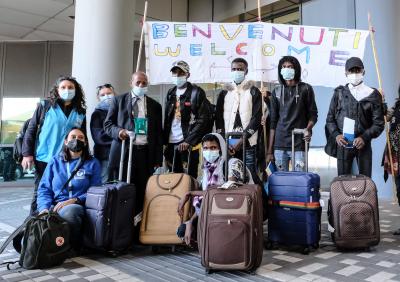 The first five unaccompanied minors arrive in Turin Credit: UNHCR/Elena Givone
 TURIN - A new project that gives young unaccompanied refugees accommodation and a year-long scholarship to attend school in Italy welcomed its first five participants, the organisers announced Friday. The project - called "Pagella in tasca' meaning 'School Report in your Pocket' -  is promoted and implemented by Intersos in collaboration with UNHCR, and will provide 35 refugee minors safe passage to Italy, a host family and access to education.
 The five who arrived recently at Turin airport are boys aged between 15 and 17, originally from Darfur, Sudan, and Niger where Intersos manages educational activities in the camps in partnership with UNHCR.
 The 12-month scholarship gives the minors the opportunity to obtain a middle school diploma and subsequently choose whether to continue their path in upper secondary school or in vocational training.
 The foster families will receive educational, legal and psychological support via a community sponsorship mechanism, involving volunteer tutors, the Municipality of Turin and private social organizations.
 "This project is based on two pillars: the right to study and hospitality in the family," explains Elena Rozzi, head of the project for Intersos. "For the first time, a study visa is used to allow safe entry into Italy for unaccompanied refugee minors, currently excluded from most other regular entry channels, such as humanitarian corridors."
 "We know that this pilot project is just a drop in the bucket, compared to almost 1,300 people who have died in the central Mediterranean since the beginning of this year, but we hope that in the future it will also allow other minors to enter Italy safely without having to risk their life."
 Chiara Cardoletti, UNHCR Representative for Italy, the Holy See and San Marino, commented, "'Pagella in tasca' is a new regular and secure entry channel that is highly innovative compared to the channels currently active as it is aimed at unaccompanied minors."
 "Children and young people represent about half of the more than 80 million migrants in the world. The desire to study and improve their lives is among the reasons that pushes them to undertake dangerous journeys to Europe."
 Cardoletti continued, "with this project we offer them the opportunity not only to arrive safely but also to benefit from a family welcome, demonstrating how much Italy is at the forefront in the protection of refugees."
 Together with Intersos and UNHCR, the Municipality of Turin, the CPIA Piedmont network, the Archdiocese of Turin and other local organizations are partners of the project, and a national memorandum of understanding has been signed with the Foreign Affairs, Interior and Labour Ministries.
 The project has been carried out with the support of the Italian Episcopal Conference as part of their campaign, 'Free to Leave, Free to Stay', the Migrantes Foundation, Acri and the Compagnia di San Paolo Foundation.
ln
 © COPYRIGHT ITALIAN INSIDER
UNAUTHORISED REPRODUCTION FORBIDDEN