'No Green Pass' violent protests, leaders arrested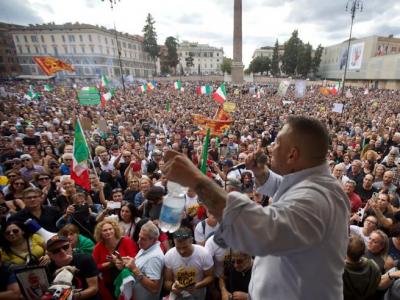 ROME - Italy was in shock Sunday after a violent anti-vax demonstration rocked the capital, organised by New Force (Forza Nuova) party leaders Roberto Fiore and Ramona Castellino who have consequently been arrested, police sources said.
 An estimated ten thousand people gathered to protest against the 'Green Pass' in front of the Trade Unions (CGIL) headquarters near Villa Borghese on Saturday, which spiralled into chaos as participants tried to force entrance into the building. A second group of demonstrators went to Palazzo Chigi, causing damage to the entrance in an attempt to break into Prime Minister Draghi's office, but were beaten back by police using a water cannon.
 Running battles between police and protesters in the city centre lasted several hours. Fiore and Castellino were among four people arrested and one policeman was injured.
 The protest in Piazza del Popolo was organised by the leaders of the far-right New Force party and a second protest, in Piazza Bocca della Verità, was arranged by the People's Force (Forza del Popolo) party.
 On Sunday there will be protest rallies outside regional CGIL offices across Italy by Trade Union supporters against what is seen as fascist attack.
ln
 © COPYRIGHT ITALIAN INSIDER
UNAUTHORISED REPRODUCTION FORBIDDEN