Eternal City mayorial contest goes to run-off as centre-left trounces League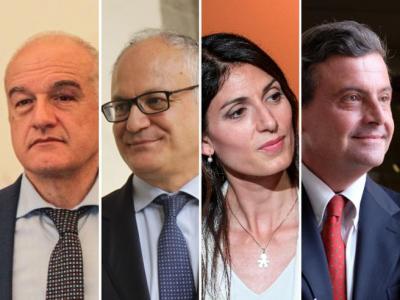 Rome candidates (left to right) Michetti, Gualtieri, Raggi, Calenda
ROME - The centre-left has won the first round of weathervane local elections held Sunday and Monday in three main cities -- Milan, Naples and Bologna, while mayoral contests in Rome and Turin, where the Five Star Movement (M5S) has lost leadership of both administrations, will go to run-off votes, electoral officials said.
 In Milan, Giuseppe Sala remains mayor with 57.7 per cent of the vote; in Naples, the ex-minister of Conte's government, Gaetano Manfredi triumphed with 62.9 per cent; and in Bologna, centre-left Matteo Lepore won with 61.9 per cent, the officials said.
 In Rome, a final ballot will be held Oct. 17 and 18 between centre-right candidate Enrico Michetti, a local lawyer and radio host, and the former Economy Minister for the Democratic Party, Roberto Gualtieri, who garnered 30.1 per cent and 27 per cent of the first round vote respectively. The incumbent mayor of the M5S, Virginia Raggi, was relegated to fourth place with 19 per cent of the vote, losing her position after years of conroversial rule. In third place with 19.8 per cent was Carlo Calenda, an independent centrist. Despite being behind in the first round, Gualtieri is favoured to win the run-off as those who voted for Calenda may turn support to him.
 The Democratic Party will remain in power in Salerno, Ravenna and Rimini, while the League, Brothers of Italy and Forza Italia will stay in Grosseto, Novara and Pordenone.
 Benevento, Caserta, Isernia, Latina, Savona, Varese and Trieste are also going to the second round.
 All in all, the centre-left has had the strongest results, winning in six cities, while the centre-right has won three and the picture looks negative for them. The results also confirm the rise of the Brothers of Italy which has reached or overtaken the League in most of the provincial capitals.
 Writing in La Repubblica, Maurizio Molinari said, "the local elections vote, which affected 12 million voters, rewarded the moderate candidates and punishes populism, drawing a new reformist geography."
 Meanwhile, in Il Corriere della Sera,  Walter Veltroni said, "the centre left won and the right and the populists lost, but we should be worried about abstention: the politics of 'likes' has exhausted participation."  Of the 12 million Italians who were eligible to vote, the turnout was around 55 per cent. Milan had its lowest turnout on record.
ln
 © COPYRIGHT ITALIAN INSIDER
UNAUTHORISED REPRODUCTION FORBIDDEN