Georgia's former President announces comeback to 'save the country'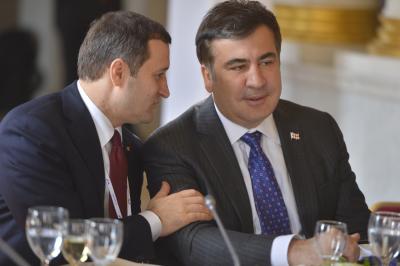 Mikheil Saakashvili (right)
 TBILISI –Ex-President of Georgia, Mikheil Saakashvili, vows he wants to participate in the better development of the country despite the threat of imprisonment. Saakashvili, who is currently based in Ukraine, says he plans to fly to Tbilisi on Saturday, the day local elections will be held.
 Saakashvili took power in Georgia after a peaceful uprising known as the Rose Revolution in 2003. In 2018, a Georgian court sentenced him in absentia for abusing his power as president. Saakashvili considers the charges against him to be politically motivated.
 "The fate of our country is about to be decided," said Saakashvili in a video on his Facebook profile. "I invite you all to vote, I will be with you to protect your electoral choice."
 "It has nothing to do with my personal ambition or political capacity, I want to fight for our children's future. We can all together stop the process of extinction of Georgia."
 The current Prime Minister of Georgia, Irakli Garibashvili, says that Ex-President will face imprisonment as soon as he lands in Georgia. "The provocations are expected but the upcoming elections will be held in peaceful and fair manner." announced Garibashvili.
Ln-rd
 © COPYRIGHT ITALIAN INSIDER
UNAUTHORISED REPRODUCTION FORBIDDEN