Senior policewoman faces displinary charges for protesting Green Pass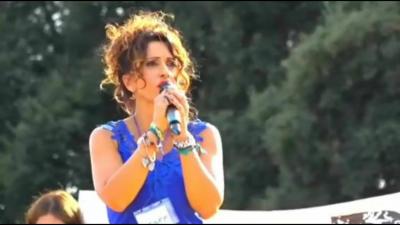 Alessandra Schilirò spoke with passion
ROME - A senior policewoman is facing disciplinary charges for making a speech opposing the Green Pass at an anti-vax demonstration on Saturday in central Rome, the Interior Ministry said Monday.
 The protest, titled ​​'Against the Green Pass, for freedom and the future,' took place in Piazza San Giovanni and was attended by a large crowd from groups including 'Ancora Italia', 'Movimento 3V', 'No Fear Day', 'First Do No Harm', 'Fisi' and 'Dissent Front'. Alessandra Schilirò, the deputy police chief of Rome, made her speech on stage in front an applauding crowd. She said, "we police officers have sworn on the Constitution, that's why I'm here." Despite being 'against her interests' she is making a stand against 'discrimination of the minority," drawing comparisons with the first Christians and the first partisans. 
 "The Italian Green Pass is illegitimate" and "it doesn't exist in any other part of the world with such severity," Schilirò argued.
The Minister of the Interior, Luciana Lamorgese, said, "regarding the very serious statements made by the deputy police chief Schilirò during last night's anti-vax demonstration in Rome, I am following the story personally with the Chief of Police, Lamberto Giannini, so that the responsibilities of the interested party under any juridically relevant profile are ascertained with absolute speed."
ln
 © COPYRIGHT ITALIAN INSIDER
UNAUTHORISED REPRODUCTION FORBIDDEN