After Taormina, iconic ribbon installation dazzles Palermo
Architect Laura Galvano with part of her installation in Palermo. Photo Credit: ARTURO DI VITA
  PALERMO, Sicily -- Two months after creating a glittering sensation at the Taormina film festival, a street installation of metallised gold and silver ribbons has been shown to the public on the facade of the famed Palazzo Ganci di Valguarnera in the Sicilian capital as part of the revived Palermo Jazz festival.
  The installation deploying as many as 130,000 ribbons, designed by leading Palermo architect Laura Galvano, originally stretched 800 meters across the Corso Umberto in Taormina for the film festival. "The artifice is aimed at being auspicious for the return to normality, after the hard blow inflicted by the pandemic on all of humanity," Arch. Galvano said then.
 In their latest appearance the ribbons form a subtle and light 'skin' over scaffolding erected on the palazzo during restoration work under way. The palazzo is located in front of the Santa Cecilia theatre, historic venue for Brass Jazz.
 The installation was made possible by Princess Carine Vanni Calvello Mantegna at the palazzo in one salon of which the film maker Luchino Visconto shot the celebrated scene of Angelica and Tancredi at the ball in his movie version of the Gattopardo novel.
 The installation was due to be dismantled again later in September before being transferred to a permanent exhibit elsewher in Palermo.
 Princess Carine commented that the installation had contributed to creating "a riviera atmosphere, beautiful, happy and elegant summer evenings."
  "The music resonated everywhere, terraces were full of happy, respectful people. Everyone had made an effort. It was a magic moment. It is proof that a well thought-out event, prepared carefully, brilliant in every sense of the word, succeeds in involving everyone."
 "It is the first time in 26 years of Palermo life that I have witnessed such a beautiful moment," said the French-born princess.
  "Thanks  to Laura Galvano for her splendid opera. Laura, it was a joy to collaborate with your marvellous project."
  jp
A bird's eye view of the installation. Photo: Arturo di Vita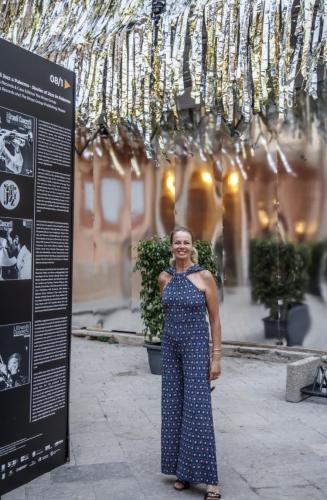 Princess Carine Vanni Calvello Mantegna in front of her palazzo with the instllation. Photo credit: ARTURO DI VITA
 © COPYRIGHT ITALIAN INSIDER
UNAUTHORISED REPRODUCTION FORBIDDEN