Celentano and PETA demand fur-free Milan Fashion Week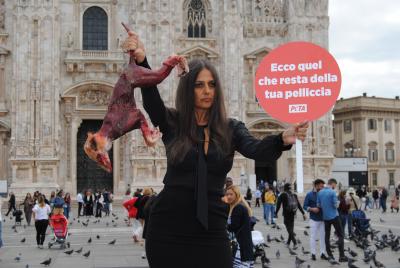 MILAN - The actress and presenter, Rosita Celentano, is supporting 'People for the Ethical Treatment of Animals' (PETA) in their awareness campaign to eliminate fur from Milan Fashion Week. Celentano protested in Milan's Piazza del Duomo on the first day of the Fashion Week, holding the skinned body of a fake fox in one hand and a sign in the other that said, "Here's what's left of your fur." The protest follows a few months after the expiry of the temporary suspension of mink farming in Italy, a measure adopted by the government in response to the COVID-19 outbreaks found in fur farms.
 "Nobody needs fur except the majestic animals it belongs to from birth," says PETA director Elisa Allen. "PETA invites Milan Fashion Week to protect animals and at the same time to contribute to the prevention of pandemics simply by adopting sustainable and innovative materials".
 "Cruelty cannot belong to the catwalks: fur is the product of so much pain and this is no longer socially or ethically acceptable. It is harmful to humans, animals and the planet itself, "says Rosita Celentano. "I am proud to join PETA in asking the National Chamber of Italian Fashion to keep up with the times and to implement a measure aimed at banning furs from Milan Fashion Week".
 Over 85% of the furs sold today come from facilities where foxes, minks and other animals are locked up before being gassed, electrocuted or poisoned. These conditions often lead to the animals losing their minds - acts of self-mutilation, cannibalism and fights between cage mates are common in fur farms. These places also pose a health risk, as infectious diseases are easily spread in the dirty conditions.
 PETA notes that Gucci, Michael Kors, Versace, Balenciaga, Chanel, Prada and many other fashion houses are fur-free and that Amsterdam, Helsinki, Melbourne and Oslo fashion weeks refuse to show fur garments on the runway. London Fashion Week and Stockholm Fashion Week 2020 have also received worldwide praise for their fur-free runways. There are alternatives such as KOBA by ECOPEL, a vegan and sustainable organic and plant-based fur that was worn by cinema icon Sophia Loren.
 Rosita Celentano previously collaborated with PETA, together with other personalities of entertainment and culture, lending face and voice, in a video calling for a permanent ban on the breeding of fur animals in Italy.
 PETA's motto reads, in part, that "animals are not ours to wear."
ln
 © COPYRIGHT ITALIAN INSIDER
UNAUTHORISED REPRODUCTION FORBIDDEN