Tobacconist who 'stole' winning scratchcard stopped at Fiumucino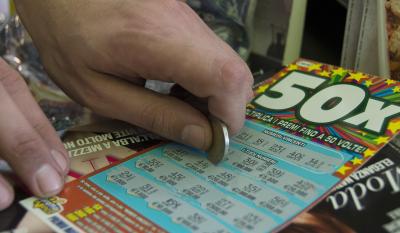 NAPLES - The tobacconist, Gaetano Scutellaro, who allegedly stole a scratchcard worth 500,000 euros from an elderly female customer has been stopped at Fiumicino airport by border police, police said. Scutellaro, 57, was in possession of a ticket to Fuerteventura in the Canary Islands, where he evidently intended to escape. Though the winning coupon was not on his person at the time, he had already been identified and reported by the Carabinieri for alleged theft.
 The incident took place on Friday morning, when the victim, an 85-year-old woman identified only as Stella, bought two scratch cards in a newsagent, located on via Materdei in a popular neighborhood of Naples. The first card she scratched was unsuccessful, but the second revealed the maximum winnings of 500,000 euros.
To be sure her eyesight wasn't deceiving her, the pensioner asked a member of staff behind the counter for confirmation of what she saw. The employee checked the numbers using a specialised optical reader, then handed it to Scutellaro, who promptly donned a helmet and sped away on his scooter, card in hand. As there was no photocopy of the winning coupon, the Customs and Monopoly Agency was asked to temporarily suspend the validity of all cards that came from that same lot, while the police located the criminal.
 Their task was not made very challenging, as Scutellaro had used his real name and details in order to purchase his plane ticket to the Canary Islands.
 The via Materdei tobacconist where Scutellaro worked has now had its business suspended. It will only be able to reopen if the owner can prove "her complete extraneousness" and that "she had nothing to do with it", however it will be a while yet before a conclusion is reached on this. An investigation is underway, but it is too early to say whether or not the complaint against Gaetano will reach a trial phase. An important fact from the survey, however, may be revealed later today.
The investigators are due to inspect a bank agency in Latina, where it seems that Scutellaro stopped on Friday and opened a current account, also taking out an insurance policy.
ln