Why Las Vegas Is Fun for Adults and Children Alike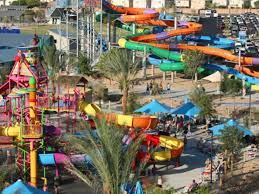 LAS VEGAS -- Pretty much everyone knows Las Vegas, even if you've never been there yourself. Sin City, they call it. It's part of the appeal, and the city likes it that way. Hey, that reputation is great for business! It's a gigantic city in the desert that has one long street where gambling is welcome and encouraged 24 hours a day and seven days a week. It's where performers of all kinds go to make it, from comedians to magicians to singers.
 And yet, it seems like it's a city meant only for adults. So many of the activities in Las Vegas are 21+ events. If you've been searching for Las Vegas houses for sale and find yourself wondering if it's even worth it to move there with kids, don't worry! There is actually plenty to do with your family in Las Vegas. You just need to know where to look!
 Wet 'n' Wild Las Vegas
 Las Vegas is a desert, and with the hot climate comes the need to cool off. Luckily, there's Wet 'n' Wild Las Vegas, a water park with 25 slides and more than enough to keep any kid entertained for hours. It closes during the winter, but never mind that; some quick online research will tell you if your time in Las Vegas will allow you to visit. Of course, when you live there, you never have to worry about that!
 The Bellagio Conservatory
 Next up is the Bellagio. Wait a minute, I thought you said these were for kids! Well, the Bellagio, if you've ever laid eyes on it, is a pretty big place. It isn't all a casino. One feature of this amazing property is the conservatory that you can find off in one section of the building.
 The conservatory and botanical gardens are located under a glass roof and feature thousands of fantastically colorful plants and flowers. The designs of the greenery change with the seasons, so you're unlikely to see the same thing twice. You can walk into a fantasy land of gnomes and other creatures one day and enjoy a Japanese garden the next time. It's a wonderful and free place to take the family.
 Madame Tussauds Las Vegas
 Madame Tussauds Las Vegas was the first such wax museum to open in the United States, so it's definitely worth coming to this one! Kids and adults alike will enjoy checking out the wax sculptures of celebrities from Spider-Man to Elvis. You can get there from The Venetian casino and then spend as much time as you want. The museum also features a 4D theater where you can experience sight and sound movies.
 See, Las Vegas has something for everyone. There's really a lot to do with your kids, so don't hesitate. If you want to make that move, go for it! The city is waiting for you.
 jp