Zany Sicilian film fest celebrates Aquarius directors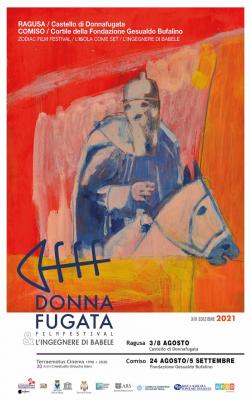 Ragusa, Sicily --The 13th edition of the DonnaFugata Film Festival opens Tuesday in the Sicilian towns of Ragusa and Comiso with the eclectic theme this year being focussing on the work of directors born under the Aquarius star sign.  
 The astrological-themed festival is organized by Cinestudio Groucho Marx and the fondazione degli Archi, in collaboration with Fondazione Bufalino and Archinet Srl,in addition to the Cineclub Fitzcarraldo e Polittico Srl, with the patronage of the Municipalities of Ragusa and Comiso. Events and screenings will be held at the Castle of Donnafugata (Aug.3-8) and in the Courtyard of the Bufalino Foundation of Comiso (Aug.24-Sept.5) .
 At the top of the festival the new president Lorenzo Lo Presti, coordinator by the creator Salvatore Schembari, and the artistic director Francesco Calogero, as per tradition supported by a guest director belonging to the zodiac sign that every year distinguishes the festival -- from the "Capricorn" Mimmo Calopreste so takes over Gianni Canova, belonging to the sign of Aquarius. 
 The eccentric Zodiac Film Fest section will therefore celebrate in this edition the great protagonists of the seventh art born under the sign of Aquarius. Among these, directors of the calibre of John Ford, Ejzenstejn, Griffith, Dreyer, Lubitsch, Truffaut, while among the performers it is enough to mention the names of Kim Novak, Mia Farrow, James Dean, Humphrey Bogart, Clark Gable, Paul Newman, Jack Lemmon, John Belushi, John Travolta, Daniel Auteuil, Vanessa Redgrave, Nastassja Kinski, Charlotte Rampling, Totò, Massimo Troisi. 
 One of the new features of the XIII DFFF is the Focus Europe section, which begins its exploration of continental cinemas starting from the far north, from Norway.The presence of guests only on video for problems related to pandemic and quarantines should not harm the use of the selection curated by Claudio Botosso.
 The new space -Viale del Tramonto -will instead propose films directed by directors including Paul Fejos with his Broadway. To this film is dedicated the final evening of the first part, Sunday, Aug. 8, in which Giovanni Renzo will accompany the images with a soundtrack. 
 Since its inception in 2009, the DFFF has focused on its most original section, the Zodiac Film Fest, which inaugurated the happy intuition of the correspondences between cinema and zodiac signs, celebrating Aquarius. 
 After 12 years and concluded the full arc of the signs, organisers return to the beginning of the cycle. "The arrival of the new era of Aquarius had by definition to be a harbinger of well-being and an opportunity for renewal says, Francesco Pace, president of Cinestudio Groucho Marx.
 jp-cc