Lamamra and Di Maio consolidate Rome-Algiers 'entente'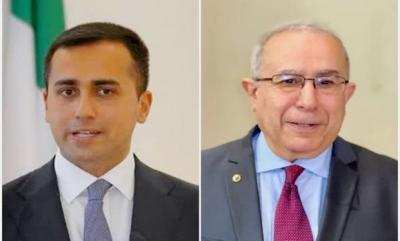 The Italian and Algerian foreign ministers
  ALGIERS -- Continuing his first contacts with his counterparts in the world, the Algerian foreign minister and the national community abroad, Ramtane Lamamra, had a long conversation a few days ago with the head of Italian diplomacy Luigi Di Maio, diplomatic sources said.
 The topics addressed during the telephone conversation concerned the strengthening of bilateral relations and political, economic and security issues of common interest, said the sources.
 The heads of Algerian and Italian diplomacy also spoke about the situation in the Sahel region, in particular the efforts made to restore peace in Mali and Libya, but above all the implementation of the strategic partnership between the two countries, at all levels and on a number of themes.
 On the menu of this first contact there was also the examination of other international issues, such as the question of the Western Sahara victim of Moroccan obstructionism, the situation in the Middle East and the security of the region closest to the two countries, in the light of the turmoil and ongoing developments.
 It should be noted that Minister Luigi Di Maio, who has always had great respect for this great country (the largest in Africa and in the Arab world), is one of the Italian leaders who wanted at all costs the strategic partnership between the two countries and which repeats at every opportunity that Algeria, without ever bragging, remains Italy's first trading partner in the Middle East and North Africa (MENA) region, with an exchange of over 7 billion euros.
 Moreover, the Italian minister often recalls the promising results already obtained: at the political level, a continuous dialogue and an all-out consultation, placed at the service of relations between the two governments.
 As for the economic aspect, Luigi Di Maio is delighted that the more traditional sectors such as that of hydrocarbons, strategic for the energy security of his country, are gradually flanked by other areas of fruitful collaboration, such as that of infrastructures, services, supported by the growing interest of Algerian operators in Italian small and medium-sized enterprises.
 Finally, Minister Di Maio recently expressed his conviction that bilateral trade relations will improve in the future and that in this perspective the organization of the Italy-Algeria Business Forum in Algiers, could provide the two countries with new tools for the promotion of initiatives relating to technological innovation, both in the field of renewable energy, and in the agri-food industry and telecommunications, which represent areas of priority interest for Italy and Algeria.
 An enthusiasm and conviction that of the youthful Italian minister, whom Minister Ramtane Lamamra has promised to give full support, in the interest of the two peoples and the stability of the entire region.
 jp-mr