The political leaders still refusing vaccination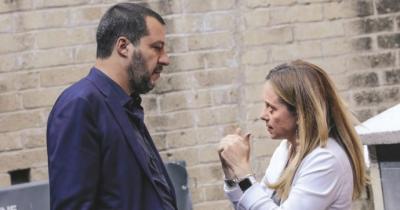 Matteo Salvini and Giorgia Meloni
  ROME - Almost 60 million vaccine doses have been administered throughout Italy, and in most regions vaccines have been available to 40-year-olds for some time, and yet Giorgia Meloni, Matteo Renzi and Matteo Salvini, the leaders of Fratelli d'Italia, Italia Viva and the League respectively, have still not received a dose, reports Il Fatto Quotidiano.
  Salvini, 48, was saying in May that he would wait his turn, yet vaccines for his age group have been available to him in his region since May 20. He then announced that he had booked his vaccination for June 28, however he didn't show up on the day as he had commitments in a trial. The day after, at a political rally in Gallarate, Lombardy, he told journalists that he had rebooked, but didn't yet know the date.
  He later reiterated this on the show Otto e mezzo, speaking to the present Lilli Gruber. She was quick to reply, however, that you are given a date when you book. Salvini then claimed that he didn't want to share on social media when he is getting his dose. However, as Il Fatto Quotidiano reports, he is happy to share online every pizza he eats, where he celebrated Italy's Euros win and when he gave blood, but not the date of his vaccination.
  Giorgia Meloni, meanwhile, said she had booked her apportment on June 10, but since then has given no update.
  Despite supporting the vaccination campaign when it was just getting underway, and criticising the Conte government for the constant delays and setbacks to national vaccination, the three politicians - two of whom lead the two biggest parties according to the latest polls - are yet to announce their vaccination. Most other Italian political leaders, including Draghi and Mattarella, made news of their vaccination public.
  Several political commentators have suggested that it is perhaps a ploy not to get on the wrong side of the countless Italian anti-vaxxers and conspiracy theorists.
  According to Ghisleri polls, around 25 percent of Italians are against the vaccine passport, allowing the vaccinated to travel freely, and there are still millions of Italians who refuse to be vaccinated.
  The alleged refusal of these leaders seems to be an odd case, as many of their closes colleagues and important members of the League and FdI have been openly vaccinated, including Attilio Fontana, Luca Zaia, Massimiliano Fedriga, Donatella Tesei, Francesco Lollobrigida, Carlo Fidanza and Giancarlo Giorgetti.
ol