Euros celebrations leads to violence in Italy and UK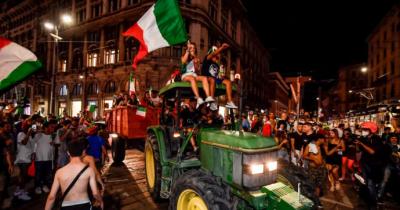 ROME - With the Azzurri back in Italy after their victory at the European Championships, the country burst into celebration, with parties in streets and piazzas lasting from Sunday night well into Monday. However, it wasn't all good times, with several concerns being raised about the Covid-19 safety of the festivities, and many fans being injured, one boy even dying in Caserta.
  The 19-year-old was killed during celebrations in Caltagirone, in the province of Caserta, in a car crash that involved the car of a security firm, two scooters and a motorbike. Four others were injured, but none too seriously.
  While the victorious national side were being greeted by Mario Draghi at a ceremony in Rome, which also included Matteo Berrettini, the first ever Italian to get to the final of Wimbledon (losing to Novak Djokovic on Sunday), celebrations were getting out of hand throughout the country. In Milan alone 15 people were injured, three of which very seriously.
  A 21-year-old man lost three fingers from the explosion of a firework, and a 30-year-old was hit in the stomach by a cherry bomb. A 22-year-old man sustained a chest injury from the edge of a metal barrier, presumably shoved by crowds.
  In Milan, several trams and public buses were stormed by the crowds and several fans were seen diving (or drunkenly falling) into the waters of the Darsena. Riot police were called in Milan, and several other Italian cities.
  In London meanwhile, where the mood was significantly less jubilant, there were similar scenes of unrest and several arrests were made. The Met Police recorded 49 arrests at Wembley were thousands fans attempted to break down barriers to get into the stadium, injuring in the process 19 police officers.
  There were reports from around England of thousands of fights breaking out, with English fans storming Italian businesses or beating up Italian fans. In London's Leicester Square, a large contingent of celebrating Italian fans were guarded by police officers from rowdy English fans.
  After three young black players missed penalties for England on Sunday, it was also reported a huge rise in racist abuse targeted towards them on social media, with several public figures, including PM Boris Johnson, being quick to denounce it.
  However, international media, particularly Italian, was quick to pick up on the "darkest hour" for English football, of racism and violence. As Fabrizio Rancone writes in Corriere Della Sera, from the English players taking off the silver medal just received, to the Italians beaten up outside the stadium, "where is the English sportsmanship and the famous British style?"
  As the coach carrying Italian players paraded around the Italian capital on Monday, it was also noted the distinct lack of safety precautions. Il Fatto Quotidiano reports how authorities had allowed a loosening of restrictions for the celebrations, only granted on Monday, which inevitably led to throngs of maskless fans swarming the streets for a glimpse of the victorious Azzurri.
ol