Italy find and return precious, stolen German vases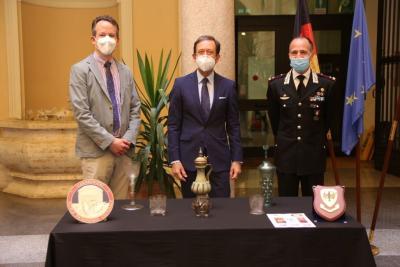 Roberto Riccardi (right) and Viktor Elbling (centre) at the ceremony at the German Embassy in Rome.
  ROME - Brigadier General Roberto Riccardo, commander of the Carabinieri Corps for the Protection of Cultural Heritage (TPC), has returned six precious crystal vases to Ambassador Viktor Elbling at the German Embassy in Rome, 21 years after they were stolen from the Museum Kunstpalast in Dusseldorf.
  The priceless vases were stolen on Feb. 8, 2000 and recovered recently at the end of a long investigation begun in 2020 by the Turin corps of the Carabinieri TPC in collaboration with the Asti public prosecutor's office.
  Italian authorities worked closely with German police to track down the stolen vases and suspects in Piedmont and Liguria. The two perpetrators were arrested.
  The investigation was able to reconstruct the journey's of the vases and guarantee their authenticity.
  According to a statement by the Carabinieri TPC, "today's ceremony shows how the return to community works of cultural heritage stolen from the public ensures the full reconstruction of shared historical, cultural and social paths."
ol