Pope under observation after colon surgery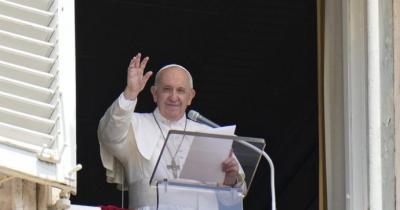 VATICAN CITY - Pope Francis was said to be in a comfortable position but will remain under medical observation for at least seven days at the Policlinico Gemelli in Rome after undergoing a scheduled colon operation for diverticular disease on Sunday, according to a Vatican statement. The surgery, his first since election as pontiff, went smoothly and he is said to be recovering well.
  The pontiff was originally expected to just be hospitalised for 48 hours after the operation, but a Vatican statement on Monday reported that he will be staying for seven days, barring further complications.
  Francis has become the second pope to be treated at the Policlinico Gemelli, a large Catholic hospital made famous by Pope John Paul II's regular visits, most notably for emergency surgery after his 1981 assassination attempt in St Peter's Square.
  The surgery was conducted by Professor Sergio Alfieri, the hospital's head of surgery.
  Just a few hours before his surgery, the pope appeared in fine form at the window of the Apostolic Palace to give his weekly Angelus address to the faithful in St Peter's Square. Shortly after he spoke, the Vatican released details of the pontiff's upcoming trip to Slovakia, indicating that he is expected to be fit to travel.
  The Vatican said in a statement, "as announced by the Holy Father during this morning's Angelus, having accepted the invitation from the civil Authorities and the Episcopal Conferences, on Sunday, 12 September 2021, Pope Francis will be in Budapest for the celebration of Holy Mass on the conclusion of the 52nd International Eucharistic Congress; subsequently, from 12 to 15 September 2021, he will travel to Slovakia, visiting the cities of Bratislava, Prešov, Košice e Šaštin. The programme of the Journey will be published in due course."
  Francis' surgery was planned for the beginning of July, the month in which the pontiff traditionally takes a summer break, with no public or private audiences, his only commitment, other than his weekly Angelus addresses, being mass on July 25 for World Day for Grandparents and the Elderly, a celebration insitutued by the pope himself.
  This is the first time that the pope has visited Policlinico Gemelli. In 2014 he had planned to celebrate a mass with sick patients but it was cancelled at the last minute.
  Despite countless rumours about his ill health, Francis had until now never undergone any surgery during his reign as pope.
  Italian President Sergio Mattarella wrote after his surgery, "Your Holiness, I have just landed in Paris for the state visit that I am about to begin with our neighbour and friend France, and learned of your hospitalisation at the Policlinico Gemelli. The affections and thoughts of all Italians, of whom I, with my staff, am the messenger, accompany Your Holiness in these hours, together with the most cordial good wishes for a good recovery."
ol