Sant'Egidio launches appeal to help elderly during heatwave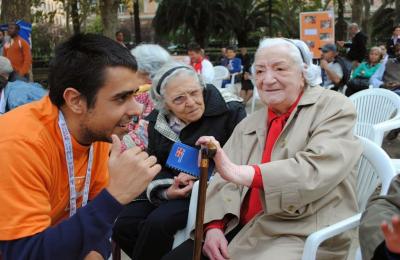 ROME - The Community of Sant'Egidio, the lay Christian organisation, has launched an appeal to all citizens to help the elderly struggling through the heatwave sweeping Europe.
  "Let's take note of the lonely elderly who live near us, starting with our neighbors; we can all do something to directly help those in difficulty, with a visit or a phone call, let's face the uncomfortable situations, let's ring a neighbor's bell to see how he's doing.
  "A visit, at times, can save a life, because loneliness too often constitute more of a serious risk than the heat: humanity and solidarity can defend from both."
   In a statement the Community reiterated that their centres will remain open through the hot summer months as a pleasant place to spend some time, "as a reference point for those who need help or want to give it."
  They have also pledged to continue their "home visits and an uninterrupted telephone service [which] will guarantee everyone the opportunity to get out of isolation, to find company and the necessary support."
  The Community have expressed their continued commitment to Viva Gli Anziani! (Long Live The Elderly!), monitoring and giving support to the elderly, a project started in 2004 after a devestating heatwave in Europe in the summer of 2003 caused the death of thousands of over 80-year-olds. The project is assisted by 40,000 volunteers and in 2004 in Rome 350,000 interventions were made from telephone calls and home visits to bureaucratic assistance and the arrangement of public events."
  "Long Live the Elderly! will be ever more present with information campaigns on how to protect against the heat during the Covid-19 pandemic and on vaccination through the sending of thousands of letters, the distribution of meals at home, food parcels, support and training to care givers and the organisation of cultural and social events."
ol