English worries that Ukraine will out-cheer fans in Rome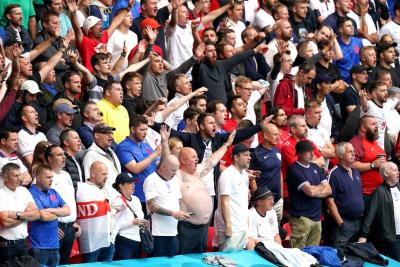 ROME - With England's quarter-final against Ukraine due to take place in Rome on Saturday, England and Italy are becoming increasingly worried about the English fans at the match; Italians fear there'll be too many and the English fear not enough.
  With the UK's delta variant cases still rising, Italy have cracked down on British tourists coming into the country, imposing a five day quarantine, meaning that any fan wishing to travel to the Rome to watch their country at the Stadio Olimpico would still be in quarantine when the final whistle is blown.
  Non-essential travel is also banned from Ukraine, however, Ukrainians in Italy outnumber Brits eight to one (240,000 to 30,000). England fans living in Italy, or in the surrounding European countries where travel to Italy is easier, have been urged to buy tickets and show their support for their country, for fear that the English contingent at the Stadio Olimpico will be drowned out by Ukrainians.
  On Wednesday the UK saw 26,000 new cases, the most since Jan. 23, and Italians are rightly fearful that a huge influx of English fans could cause a delta variant spike in their country, ruining a national reopening that is so far working pretty smoothly, with all but one regions in a white zone.
  Massimo Andreoni, scientific director of the Italian Society for Infectious and Tropical Diseases (SIMIT), has said that allowing England fans into Rome would be a "hazard".
  The FA has been allotted 2,560 tickets to distribute among England fans, the majority of which would have usually gone to the England Supporters Travel Club. However, the FA have been working with UEFA to find British residents in Italy and Europe, and even other countries around the world where travel restrictions are looser, who could buy tickets and travel to Rome.
  It was believed that the British Embassy in Rome were involved in the sale of tickets to British residents in Italy, but were forced to issue a statement to the contrary. 
  It is still believed, however, that there will be a sizeable England support in the Stadio Olimpico, with many English fans believed to be booking flights to Nice, close to the Italian border, and then driving to Rome. 
  Il Messaggero reported that it was the Mirror, a British tabloid, to suggest these "loopholes" to the travel restrictions imposed on Brits. They even suggested driving to Rome, though warned that it could take up to 20 hours in a car.
  However, either of these routes would be violating the travel restrictions, as the rules imposed by the Italian Health Ministry declare that the five day quarantine period is for anyone who has been in the UK in the last 14 days - if these sneaky Brits manage to get in, they would still be acting in breach of Italy's beloved restrictions.
  Despite warnings from the UK government not to travel to Italy for the match, Italian authorities are expecting 3,000 English fans in Rome for the match - partially due to the 2,000 tickets sold to British residents even before England knew they'd be playing in Rome (having beaten Germany in the last-16).
  Il Messaggero reports that border authorities are stepping up attention paid to incoming British citizens, imposing quarantine and carrying out tests. Though it is much more difficult to do so to Brits driving over the border from France than to those flying into an Italian airport, border guards have been instructed to be much stricter to British citizens, or anyone who has been in the UK recently.
  Incoming fans are instructed to inform local health authorities of their arrival in Italy, and those who don't respect the rules can receive a fine of up to 3,000 euros. The Italian government have also warned that they will be conducting checks at the stadium before the quarter final match to ensure that any incoming British citizens have respected all the legislations put in place.
ol