Italy and Austria not to take the knee in last-16 match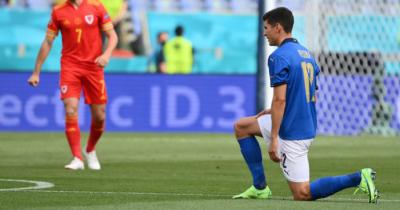 ROME - It has been revealed that the Italian and Austrian squads will not take the knee before their last-16 match on Saturday at Wembley, after UEFA received no request from either federation to allow time before kick off for the gesture.
  The Azzurri caused a stir following their match against Wales last week when only five players performed the gesture in support of the Black Lives Matter movement, the other six choosing to remain standing.
  Following this controversial split decision by the squad, the Italian Football Federation (FIGC) published a statement reiterating that they are against every form of racism, though they have now taken the uniform decision to all refrain from taking the knee. This is a change of tack for the FIGC, after Gabriele Gravina, the President, said that they would leave all the players to "follow their own feeling."
  After the Wales match, the question of taking the knee became very political throughout Italy, will high ranking politicians such as Enrico Letta even weighing in. The leader of the Democratic Party said, "I would like to appeal to our players, that they all take the knee, because frankly I found it a scene... in short, not a nice scene." He continued, "If you agree on the game plan, you agree on this too."
  Italy didn't take the knee in their first two match in the Euros, Turkey and Switzerland, but the problem only came around because Wales announced their intention to do so. Italy's next opponents, Austria, so far haven't taken the knee during the Euros.
  The captain of the Italian side, Leonardo Bonucci, will explain his team's reasoning behind their decision in an upcoming press conference.
ol