UNESCO considers putting Venice on 'black list'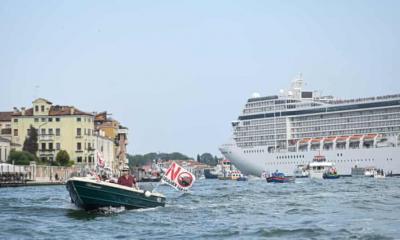 VENICE - Venice is at risk of ending up on the 'black list' by UNESCO after cruise ships reappear in the bay. 
  The recent news that the Minister of Culture, Dario Franceschini, was supporting the decision to prevent cruise ships passing through the Giudecca Canal, come July, was followed by an uprising of those who wanted a more immediate solution, such as trade unions and dockers. These groups want big boats to dock in Marghera from 2022. 
  Franceschini revealed how UNESCO's possible decision to place Venice on the "list of endangered heritage" in mid-July "has been in the air for some time." He went on to say that "it would be a very serious thing for our country. We have already taken an important step with the last decree-law by ensuring the landing of large ships outside the lagoon. Now I think that something more needs to be done, such as immediately preventing large ships from passing through the Giudecca Canal," he explained. 
  Venice has been trying to avoid ending up on the list for a few years now, showing how administrators have failed to protect a truly unique heritage. Mayor Luigi Brugnaro had presented a dossier that had only partially satisfied UNESCO. The objections did not only concern the large ships that pass undisturbed in front of St Mark's, despite having been banned since 2012 by the Clini-Passera decree, which prohibited the transit of vessels over 40,000 tonnes. There was also the inability to keep under control an increasingly aggressive mass tourism  These accusations were countered by the idea of docking cruise ships at Marghera and digging the Vittorio Emanuele Canal to reach the Marittima, avoiding St Mark's Basin. However, all Venetians know that this solution will take time, assuming that work on the sea bed is accepted. 
   Luciano Mazzolin, spokesman for the 'No Grandi Navi' group, pointedly commented how: "they are right to put Venice on the 'black list', because we have been fooling UNESCO for years. And I am referring to the broken promises made by Brugnaro, Zaia and successive governments without ever taking a decision."
  Nicola Pellicani, MP, explained how: "UNESCO's ultimatums are nothing new and are to be expected. Parliament passed a law last May, a few weeks ago, to find a definitive solution by taking the big ships out of the lagoon in an off-shore port, which will have to be identified through a call for tenders." The problem is the time it will take to reach that solution. UNESCO seems to have decided that it has now expired.
av