Mafia boss arrested returning home for Easter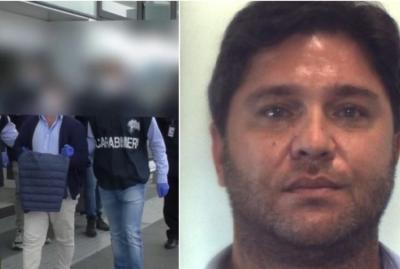 PALERMO - The Cosa Nostra boss Giuseppe Calvaruso has been arrested in Palermo airport, after returning from Brazil to celebrate Easter with his family in Sicily.
  He was arrested by the Carabinieri at dawn on Monday, along with Giovanni Caruso, 50, Silvestre Maniscalco, 41, Francesco Paolo Bagnasco, 44, Giovanni Spanò, 59. The group are accused of various crimes of extortion, bodily harm, kidnapping, fictitious title of goods - crimes all aggravated by their association with the mafia and 'mafia methods.' 
  They were arrested as part of the Carabinieri operation Brevis, led by public prosecutors Federica La Chioma and Dario Scaletta, in coordination with Salvatore De Luca of Palermo's Antimafia Directorate.
  Calvaruso had become the boss of the mafia faction in Pagliarelli after the arrest two years ago of boss Settimo Mineo, though for some time Calvaruso had been managing the affairs of his clan from Brazil. 
  Before leaving Italy he had managed economic activity of the area with constant meetings with the respective bosses of the Porta Nuova, Noce, Villabate and Belmonte Mezzagno clans.
  As part of his commitment to 'public order' he had allegedly taken part in a beatdown of the agents of various kidnappings not authorised by Cosa Nostra. He had also, as revealed in an intercepted phone call with Caruso, his closest contact in Italy, assured the protection and assistance in prison of various incarcerated members of his clan.
ol