Brazil's agro GDP increases 2.06% in Dec. 2020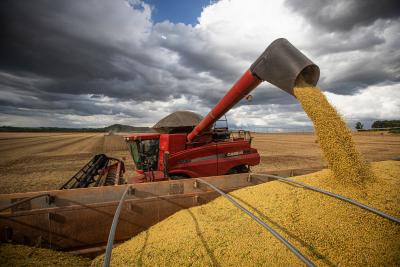 Brazilian soy. Photo credit: Wenderson Araujo/Trilux
SÃO PAULO – The GDP of Brazil's agrobusiness, which includes about one in three workers, increased by 2.06% to reach R$2 trillion (€ 298.2 billion) out of a total of R$7.45 trillion (€ 1.11 trillion) in December 2020, according to a press release by Italian law firm Guarnera Advogados. 
 The increase is credited to the efforts of the CC-Agro-COVID19 Committee, created by the country's Ministry of Agriculture, Livestock and Supply (Mapa) in cooperation with the National Supply Society (Conab) and the Brazilian Agriculture Research Society (Embrapa), to monitor and propose strategies to overcome the effects of the COVID-19 pandemic on agricultural production and supply. 
 The country's agrobusiness sector is expected to continue to make a significant contribution to the recovery of the Brazilian economy during the pandemic, which makes it an interesting investment destination for Italian companies that offer technological solutions for the agriculture supply chain, says lawyer Giacomo Guarnera, Founding Member of Guarnera Advogados. 
 "Despite the complexity of the current period, sectors such as agri-food resist in the country and continue to be attractive to Italian companies," he commented. 
 Brazil is considered the world's largest producer of coffee and orange juice; the second largest producer of sugar, soybeans, beef, and chicken; the third largest producer of corn; as well as the world's fourth largest exporter of agricultural products. According to the Mapa's most recent data, the Brazilian agri-food industry exported $6.47 billion in February 2021, 2.8% more compared to the same month last year.
ms