San Marino politicians cause scandal with lockdown party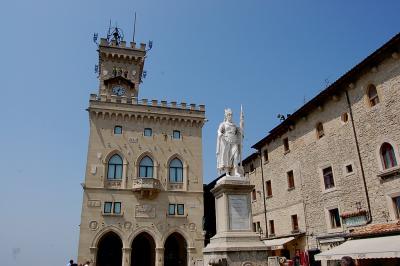 Palazzo Popolo, San Marino
  CITY OF SAN MARINO - One of the newly elected Captains Regent of San Marino has already caused scandal after being found by police, along with many other members of the Grand and General Council, breaking lockdown rules to have a party celebrating their election on April 1.
  Around 70 people, including the new Captain Regent Gian Carlo Venturini, were allegedly celebrating his election in the backroom of a shop, many drunk and without masks. Among the partygoers was also a secretary of state and health authority heads.
  Venturini was elected on the April 1 and as Captain Regent, the Sammarinese head of state, he will serve is months, alongside the other Captain Regent Marco Nicolini.
  Photos were posted on Facebook, which have since been deleted, of Venturini, wine glass in hand, with the caption "Tell me what noise happiness makes." The celebrations had continued from the traditional lunch to celebrate the election of the new Captain Regents.
  Many were outraged that they were breaking the restrictions that they themselves imposed, including a ban on parties and gatherings and the closure of shops. San Marino, a country of only 33,000 people, has had 4,800 cases and 80 deaths.
  The partygoers were caught by the gendarmerie after calls from neighbours about the noise. They took names and statements, are now investigating who else was there, as only six people remained when they arrived, all members of the Christian Democratic Party, Venturini's party.
  Matteo Ciacci, secretary of Libera, the principal party of the opposition, said, "the most serious fact is that it was the representatives of the institutions that violated their own laws."
ol