Veteran FAO fixer's legacy may booby trap EU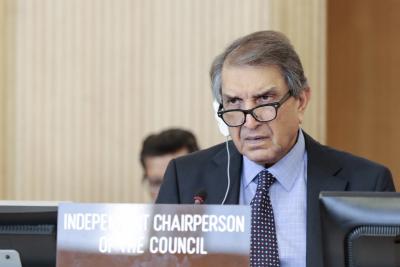 Khalid Mehboob Photo credit: FAO/Cristiano Minichiello
 ROME – Fierce competition has erupted for the position of independent chairman of the FAO Council to be elected by the upcoming 2021 plenary Conference of the poverty-busting UN agency, diplomatic sources said Sunday. The post currently is held by veteran fixer Khalid 'sleepy' Mehboob of Pakistan whose second mandate is expiring as his 85th birthday approaches.
 Mehboob is evidently tied of chairing lengthy and often tedious meetings in support of the Chinese Director General, Qu DongYu, and is affectionately known as "sleepy Khalid."
While numerous senior executives from OECD countries have been axed from the FAO in recent years on ground of reaching the UN mandatory retirement age of 62, recently extended in principle to 65, the Pakistani potentate has continued to wield influence despite his venerable age.
 Last year two ambitious diplomats threw their hats in the ring for the job. These were the energetic Dutch Ambassador Johannes Hoogeveen and the Hungarian Ambassador Zoltan Kalman. FAO watchers say that most EU states could be rather reluctant to support Budapest's man on the Tiber, given the pariah status of the far-right Hungarian Government insider the EU, making the 'flying Dutchman' the favourite to take over from the elderly patriarch.
 It is not yet known if any Latin American ambassadors may run.
 The outcome of the contest depends largely on whether Mr Qu will support the Dutch bid in return for a pledge of support by the Netherlands and Brussels for his running for a second term of office, FAO watchers say.
 jf