Project to bring Dante's Inferno to the streets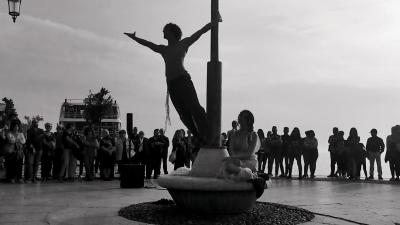 MILAN - As part of the "Per quel cammino ascoso" initiative celebrating Thursday's Dantedì, the 700th anniversary of Dante's death, the 'Naufraghi Inversi' theatre company have launched a project called 'ItinerDante', which will see them travel 700 kilometres around Italy, bringing the Divine Comedy "to the masses." 
  "With Covid, the world has shut. But culture has not. And it is culture that will save us." These are the words behind ItinerDante, Eugenio Di Fraia and Ricardo Sozzi, the co-founders of Naufraghi Inversi, and Angelo Marrone.
  Their idea is to bring Dante's work to the streets "to help all of us to understand, through Dante, the Inferno in which humanity is caught." Inspired by the fact that Dante wrote in vulgar so the people could understand, ItinerDante will involve performances of Dante's cantos on the streets of towns and cities throughout Italy, partially translated into modern Italian, to make it more relevant, to encourage people to look at their own vices and sins, and to force us to question, "are we responsible for the 'dark forest' in which we find ourselves?"
  The project will be launched at the online "Per quel cammino ascoso" event on Thursday, with the first physical event to start on June 21, pandemic-allowing. The project will start in Bergamo, over then next three months, until Sept 21, they will travel 700km though Italy, ending in Ravenna.
ol