Giotto frescoes restored in time for Dantedì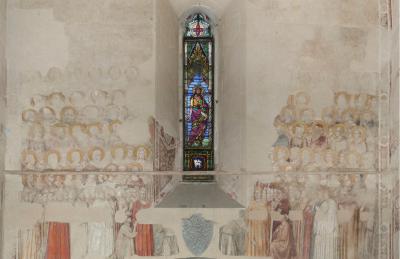 FLORENCE - The restoration campaign of the Giotto's frescoes in the Magdalene Chapel, which houses the oldest portrait of Dante, has come to an end, in time for the celebrations planned for the 700th anniversary of the death of the great poet. 
  The restorations were made possible by the Bargello Foundation and ArtBonus, and carried out in collaboration with the Bargello Museums and the Opificio delle Pietre Dure.
  The exhibition of these frescoes is one of many events which the Bargello museum in Florence has planned for the celebrations of 'Dantedì'.
  The museums have planned a host of online content to be shared in the run up to the opening of their exhibition, 'The Honourable and Ancient Citizen of Florence', scheduled to open April 21, including a video of the frescoes in the chapel. The catalogue of the exhibition is also set to be released.
  The museums have another exhibition scheduled for September, entitled, 'The Admirable Vision: Dante and the Comedy in the symbolist imagination'.  
ol