Marie Colvin: a fine reporter, with fickle editors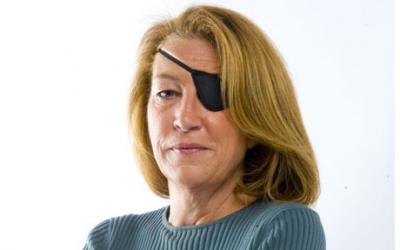 Marie Colvin was killed by shellfire in Homs, aged 56, while covering the uprising in Syria
KUWAIT CITY -- "Stop looking at the troops through the binoculars," Marie told me, "You'll get us arrested." As Marie Colvin and I drove around Failaka Island halfway between Iranian missile batteries firing from the Faw peninsula 20 miles to the north and Kuwait 20 miles southward, there was nothing to suggest she would develop a death wish, as some detractors have claimed after she was killed by Syrian shellfire while reporting the Arab Spring.
 We worked together covering the Iran-Iraq war in 1987, soon after she had left United Press International to join the Sunday Times. I was the news agency's Bahrain bureau manager. As we toured the tiny island where Kuwaitis let their hair down in summer months, Marie admonished me not to attract the attention of the authorities as we searched for batteries of U.S.-made Hawk missiles that had been deployed to try and shoot down Iranian Silkworm missiles that streaked over Failaka, hitting a U.S. oil tanker and Kuwait's main sea island oil terminal.
 We arrived in the Middle East around the same time. I covered the Lebanese Civil War in Beirut with reporters such as Richard Beeston, now the foreign editor of the Times, and Juan Carlos Gumucio, one of her two future husbands. Marie made her name in Libya. By the time we teamed up in Kuwait City, she had found that conflict coverage was her element. Her enthusiasm was contagious about Baghdad, where I was heading to complete my tour after I was expelled from Bahrain for upsetting the island authorities with my reporting.
 "It's a great war city," she said. Like most of us, she had taken the Palestinian cause to heart, frequently extolling the beauty of the West Bank. She was competitive. Hearing her talking on the telephone to a university professor who was well-informed, I asked for his number. She gave me one that didn't connect. Marie wasn't always keen to share her sources.
 When I worked for the Sunday Times myself, I understood the pressure its editors put on reporters to get scoops to beat the dailies. This is why so many correspondents from the organ – more than any other UK newspaper since the Second World War -- have been killed in war zones.
 When I began my spell with the paper I fortunately had an experienced foreign editor, Matthew Campbell. He had worked from Moscow covering the war in Chechnya. By the time I left, however, he was replaced by Sean Ryan, the current incumbent, a fine editor who has, however, no experience of working in foreign fields. Since then he has hired as his deputy a former foreign editor of the Times, Graham Patterson, who also has never worked outside Britain.
 Such armchair generals push their troops to take wild risks repeatedly to cover their editors with glory. Pressure on correspondents is relentless. And once a reporter is typecast as a conflict newsperson the newspaper rarely offers alternative well-paid jobs away from the battlefront.
 It was different during the Cold War when James Bond author Ian Fleming was the foreign manager. Sunday Times hacks supplemented salaries by spying for Western intelligence.
 When Marie and I worked in Kuwait I met the local CIA station chief, who seemed keen to recruit journalists to his payroll. Among those in contact with the spook was a friend from Reuters news agency, Philip Shehadi, a Lebanese American. Philip later was transferred to Algeria, where he was found knifed to death in his Algiers apartment. "He was a nice boy," an Algerian official source told me when I tried to find out who killed him. "He supported the Palestinian cause. But he was too close to American Intelligence."
 During three decades of courageous reporting Marie never compromised her integrity. The same cannot be said for her masters in Rupert Murdoch's ruthless media empire.