Welcome to Malta, land of homing, pigeons and fireworks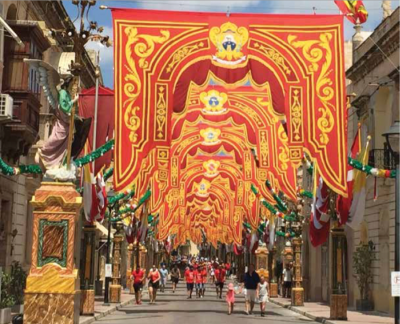 Decorations adorn city streets in Birkirkara, Malta, during the annual Feast of St Helen
ROME - When I arrive in Malta I expect a racy island with fast living gaming expats, speeding around on boats and jet skis. The reality is different, as it's an island steeped in history, culture and tradition. Given its strategic position between the Middle East and Europe, Malta has always been an island in conflict. It was an outpost for Christian crusaders and later for the British in the Second World War.
 With a constant flow of fireworks day and night most times of the year, one feels like Malta never really left the war zone. Fighting is even still a local pastime at the many village festivals that are held during the summer months.
 Always between other nations, even the Maltese language is a mix of Arabic and Italian. Trying to read or speak it is impossible but luckily most Maltese also speak English.
 Just across the water from Italy, the island is very Catholic holding religious festivals, where locals wear old costumes, often woven in gold and cherished by the communities. The Maltese even keep the homing pigeon tradition and compare notes with the queen of England on her pigeon chase times.
 Leaving the past behind, it's not surprising that Valletta, the capital of Malta, is the European capital of culture this year. Malta has its own beer called Cisk, and Kinnie, a bittersweet orange soda, that you either love or hate. It also has traditional culinary delights such as rabbit stew and pastizzi, but nowadays it has a wide variety of cuisines and beverages from around the world.
 I found a little gem called La Vida, a Spanish restaurant nestled on a side street, Triq Guze Howard in Sliema. It has amazing tapas choices, Ceviche made with the best tuna and vinaigrette, juicy grilled octopus, and generous portions of manchego, asparagus and chorizo. Between 5 and 7 p.m. there is a happy hour with Sharish, a Portuguese gin, which runs in a number of colourful flavours and quickly gets your evening started. After two large glasses of the delicious blue and purple beverage I was stumbling home uphill back to the Palace Hotel.
 The Palace is a five star hotel that is in a wonderful location in Sliema, near the ferry pier to the other islands, only twenty minutes from the airport in a cab, and close to all the main tourist sites. It has roof top views spanning the island, framed by an infinity pool that allows adults to sip cocktails and watch the world below without disturbance.
 Depending on occupancy the hotel lets day-trippers stay on the roof with access to Wi-Fi and facilities, from 25 euros a day. It's hard to leave the outdoor and indoor pools, the spa, and the sushi and Asian food selections on the rooftop but exploring the island is also necessary.
 I used a local website called Deal Today to source good ideas and prices for my day trips. Being in a seaside mood we decided to go to Golden Bay, to have lunch at the Radisson followed by an oil massage and sauna. We then took a swim at the Golden beach famous for being the location for the film Troy. While sunbathing on the soft yellow sands I easily imagine Brad Pitt emerging from the sea scantily clad, from the azure water.
 We also booked a boat tour to Gozo, a quiet neighbouring island followed by the Blue Lagoon, another filming location for Troy.
 The Blue Lagoon is especially worth visiting with crystal clear water and small fish among the rocks.
 Another must see on the island is the ancient city of Mdina. Once you have spent the morning wandering its walls and lunching at Fontanella tea gardens, which has amazing vistas, one can move on to the restored Roman villa that's next door in Rabat, or the catacombs and churches in the area.
 In terms of getting around, if you are adventurous you can rent a car and explore the island yourself. Personally I find the Maltese one-way road systems complex and there's always a problem finding parking so it's easier to take cabs or taxify or a bus to local hot spots.
 The hop-on hop-off bus is a very efficient way to get around the island also. Many think of Malta as a small island, suitable just for a long weekend visit but if you are able to stay longer, there's more than enough to keep you intrigued.
 fh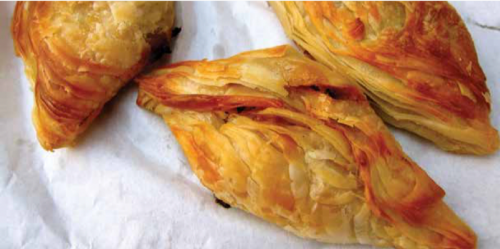 Pastizzi, a traditional Maltese snack food
The infinity pool, a great place to sip cocktails and unwind: The Palace Hotel, Sliema